In celebration of the 75th Anniversary of Fiesta dinnerware, our tree this year features a selection of Fiesta embossed teapot and anniversary ornaments along with vintage style Christmas bulbs and bubbler lights.
Yes, that's a Fiesta "Cookies for Santa" set on the little table in front of the tree and a vintage picnic cloth in marigold as a tree skirt.
I had the best time this Fall tracking down the various colors of ornaments with lots of help from friends and family. Thank you, Mom and Rebecca! Here's one in paprika (above) and in scarlet (below). The miniature pitchers are from a Seasons of Canons Falls line.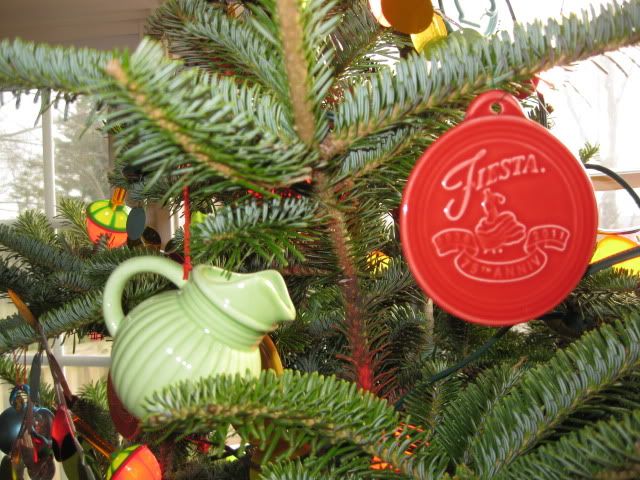 The Bon Ton "String of Lights" Anniversary edition~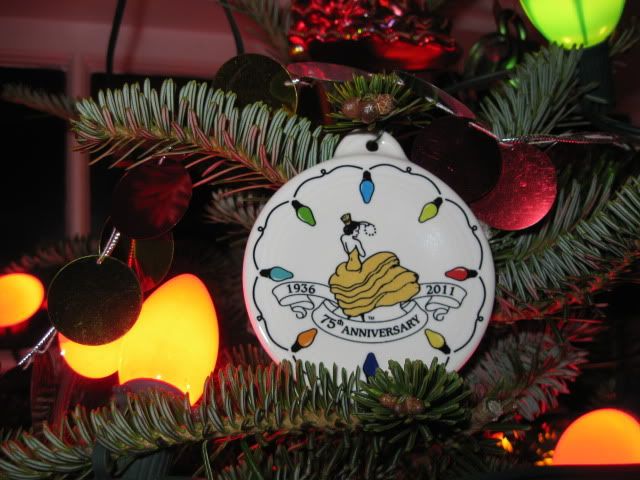 The
HLCCA
produces the teapot ornaments as a club exclusive. The marigold ornaments were a gift to conference attendees this year. Most of the other colors can be purchased from the club web site in the link.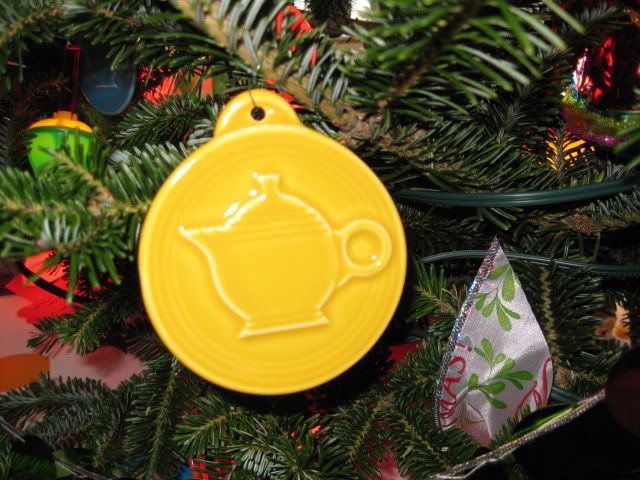 Chocolate came out just this month and sold out very quickly! Can you see mine near the trunk of the tree?
The tree topper is a flamenco dancer ornament from a few years back. She was part of a set of international dancer ornaments offered by the much missed
Filene's
department store. I wish I had a dozen more of these to send to all of those fellow collectors who ask me about her each year. I also wish we still had Filene's!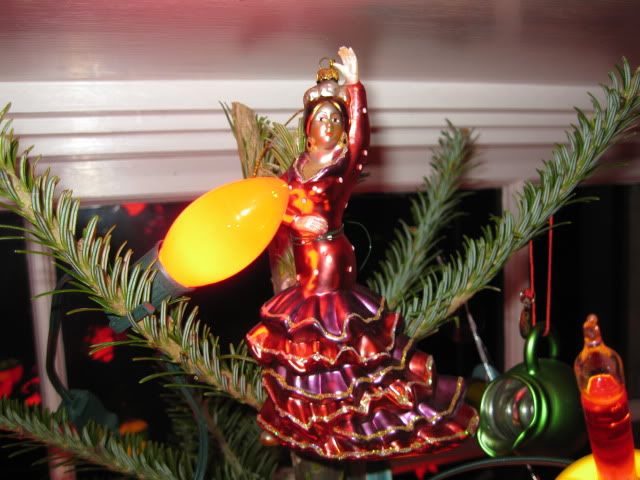 A couple of years later, my friend Kathy surprised me with this ornament that I like to call "The Dancing Lady Finds Love."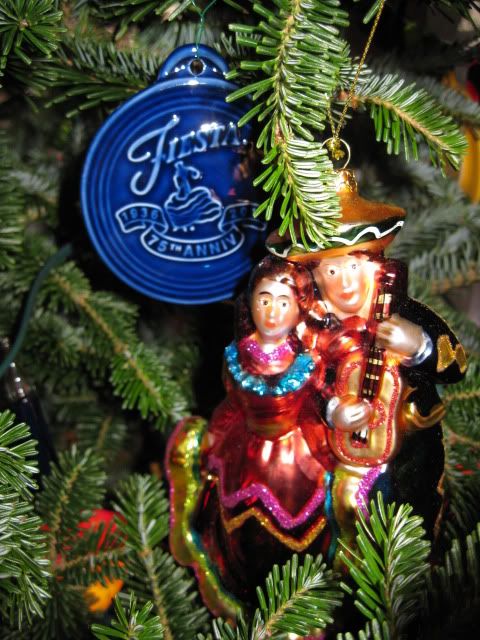 I put up the tree on Monday night. The days are so short here that today is the first day I've actually seen it in daylight!
The presents are rapidly filling in the space around the tree, but we must leave a spot for the kitty sentinel.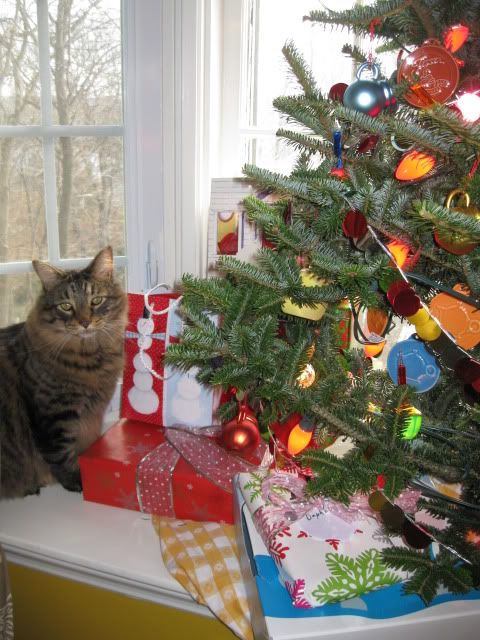 Fizz stands guard lest Grinch tries to foist our tree up the chimmey or get his green hands on our Fiesta ornament wreath!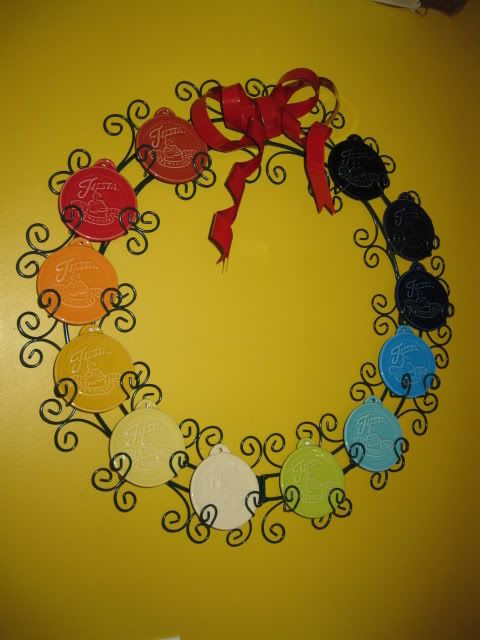 These
wreaths
are offered for sale with a set of "12 Days of Christmas" miniature plates. A fellow Fiesta collector quickly realized that the wire forms are just the right size for the ornaments. Mine is complete once I add the Christmas Tree anniversary ornament.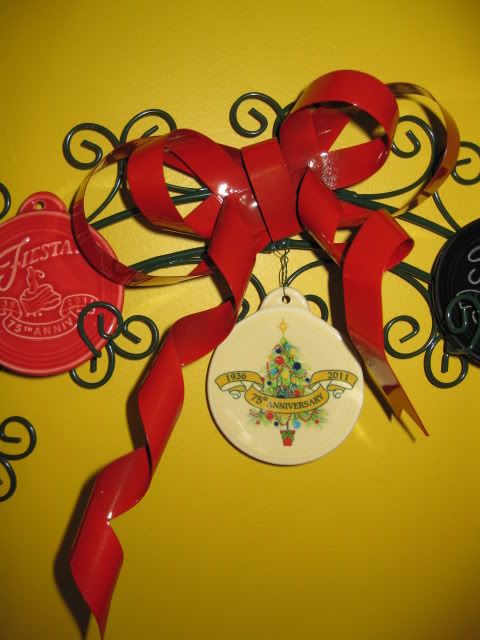 I hope you are enjoying your holiday decorating. If you're working with Fiesta ornaments, let me give you my best tip: ditch the ribbons and hang them with floral wire! Stay tuned for more dishes and decor.