Sunday, August 28, 2011
I'm so glad to hear that all blog land buddies are doing well post-Irene! We have another hour of wind advisory, but we're so pleased Irene did not live up to her initial billing. Here are a few before and after shots for you.
Before
After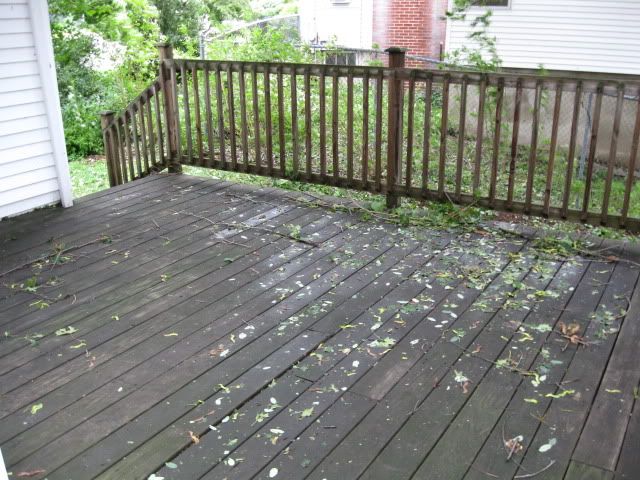 Before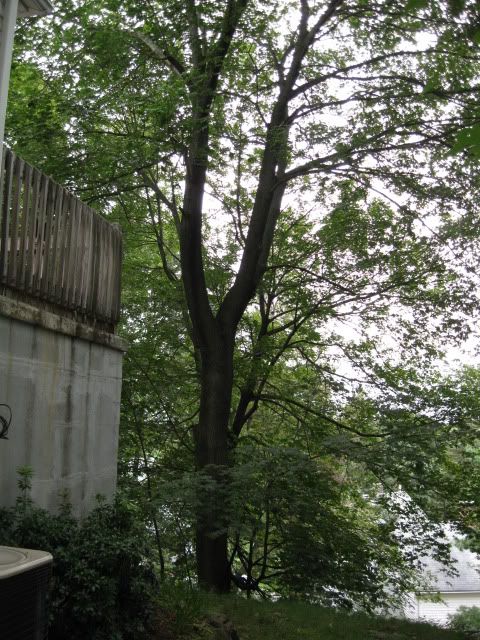 After
These tree photos show you are greatest casualty today: maple leaves! They are everywhere.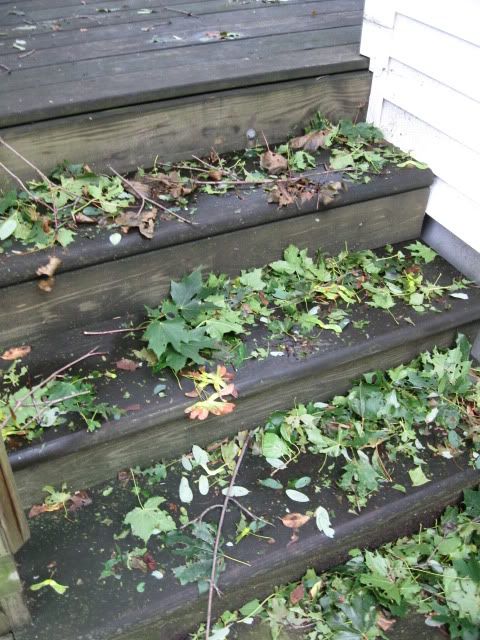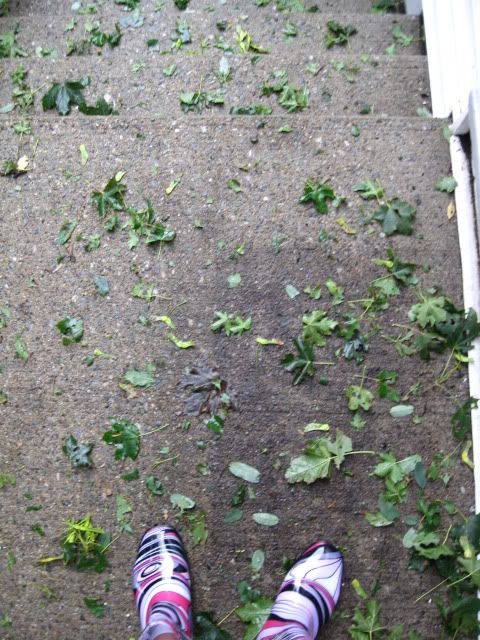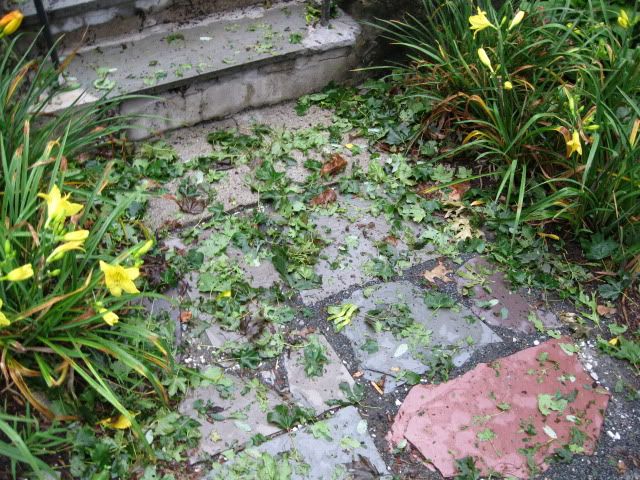 Thankfully all of the trees on our street are intact.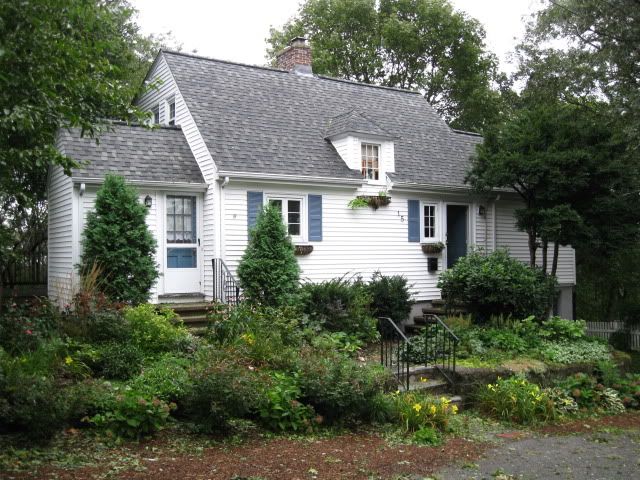 The next street over was not so lucky. We found the source of this morning's power outage. This house lost the lines to their house and has some roof damage.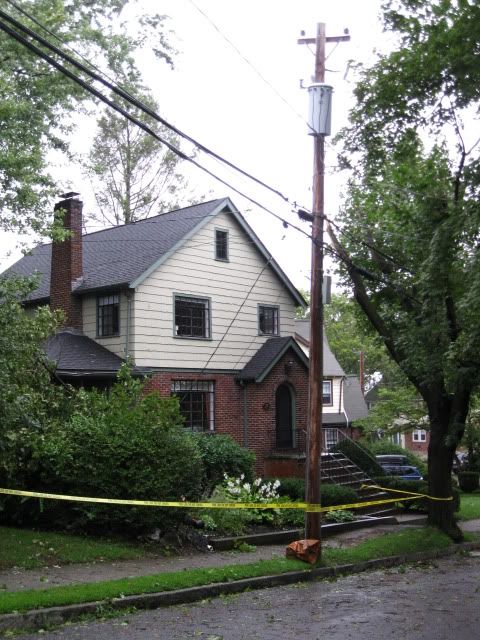 My apologies for the blurry photos...the light was low, and the wind was still whipping.
At this house, the line to the home was spared.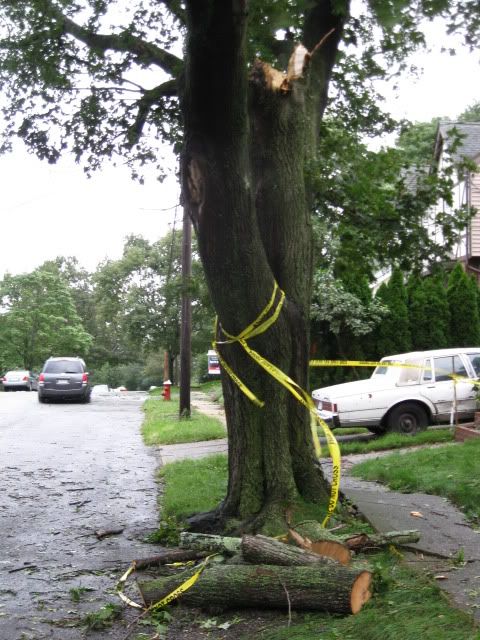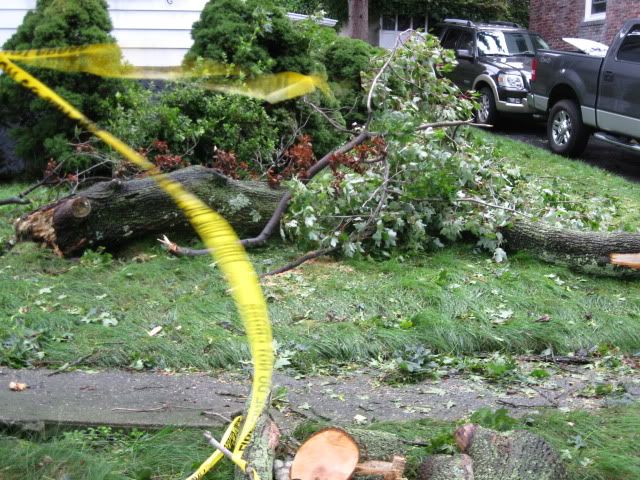 Hopefully these neighbors will have an easy time with their repairs.
These little guys were very happy when we came home from our walk around the block. They were pretty agitated this afternoon, but now they are calming down for the evening.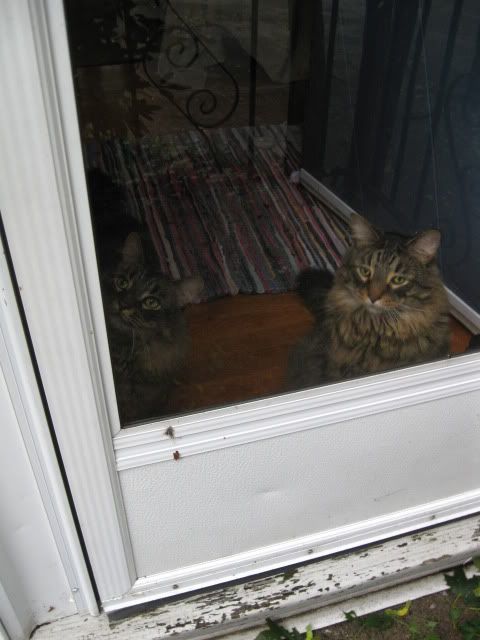 The storm could have been so much worse. Thank you for all of your good thoughts and prayers!
Posted by

Daphne
at 7:58 PM
5 comments


We spent most of yesterday getting ready for Irene. By suppertime, my tabletop was filled with emergency supplies. Fiesta pitchers and carafes are most handy at times like these!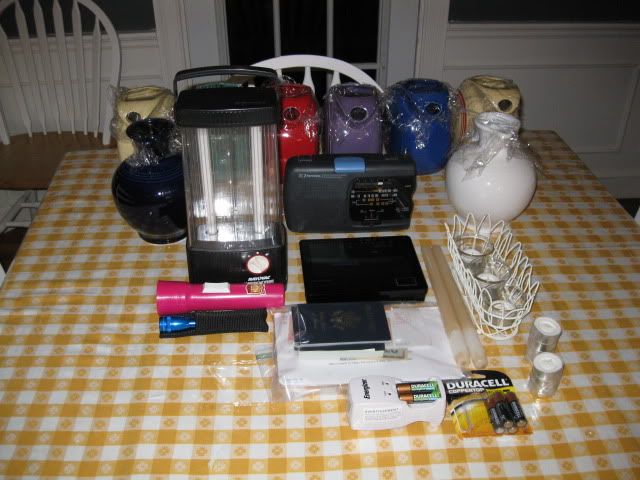 We don't live in an area with a flood risk, but we do live on a street with gorgeous oaks and maples. Here are some shots from Saturday.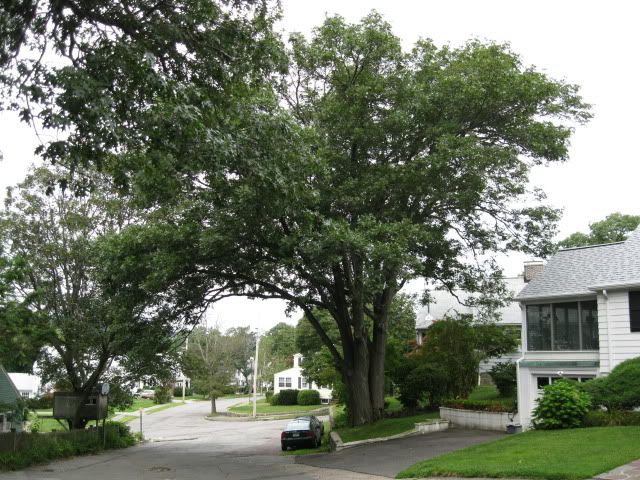 They have just started dropping their acorns.
We all do a very good job keeping the trees trimmed and healthy, but they are our closest neighbors. Yes, those are the power lines to our house running in the limbs of the oak.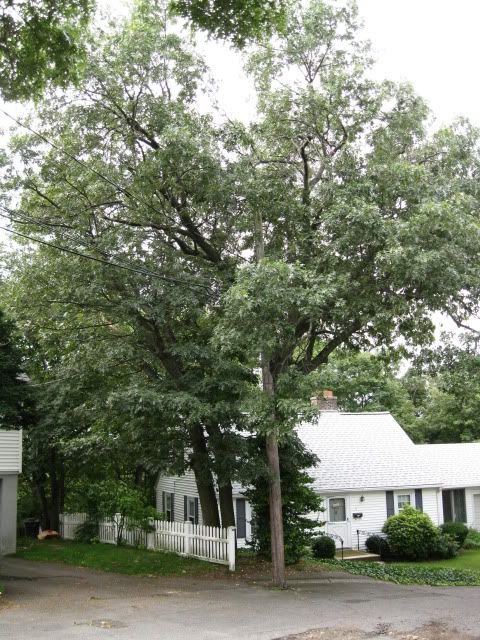 These trees are used to 60 mph gusts during blizzards and Nor'easters, but their branches are bare and their roots are dry when these winds come along. Will they handle the force of a tropical storm with full foliage and anchors in already wet soil? What will the south east wind bring?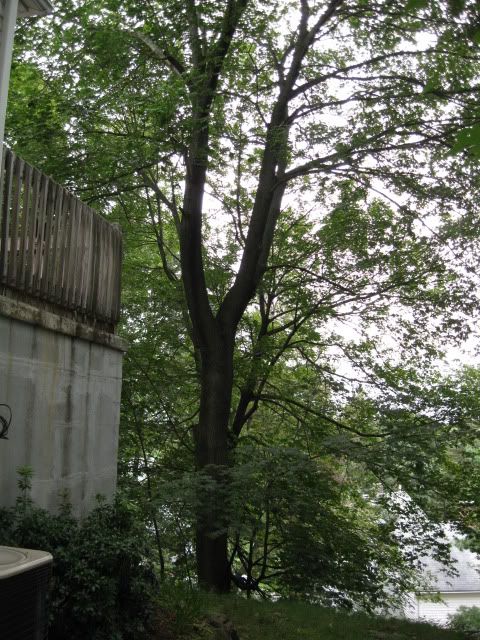 Sparkle is manning his post at the front window.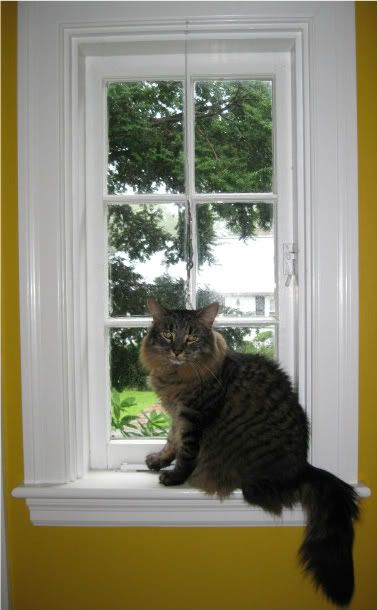 Fizz has the backyard lookout from our bed.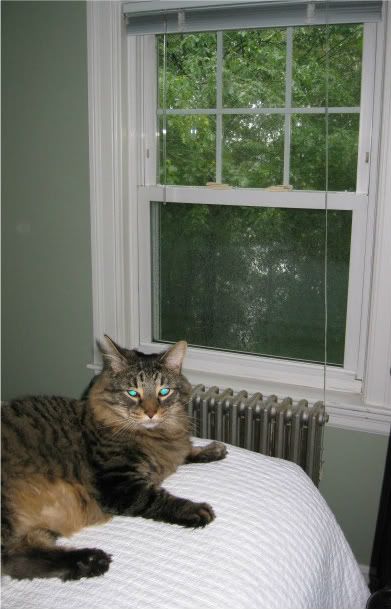 Yesterday the sky grew darker all day long.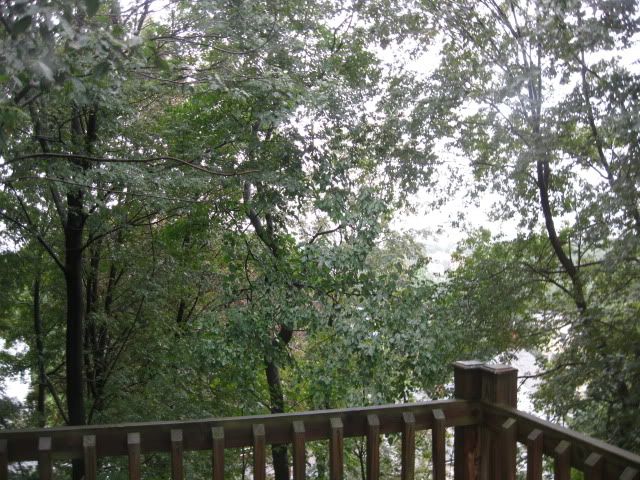 We had two intense thunderstorms as the feeder bands came in.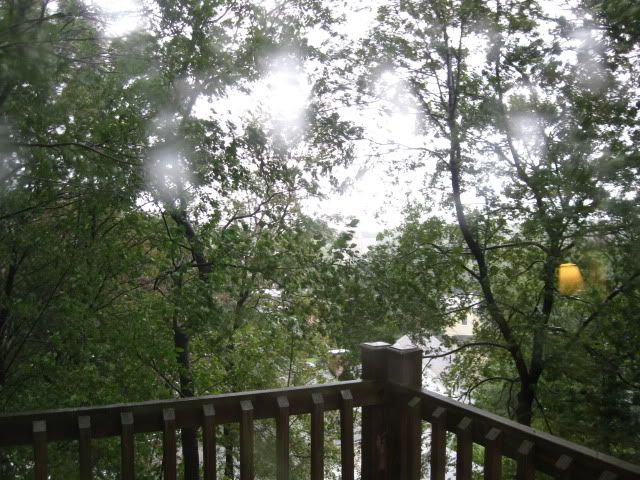 This morning we awoke to steady wind and rain. Then we lost power for about 30 minutes. We did not see anything down on our street, but then saw the town's tree removal truck enter the neighborhood. Suddenly the power was back on, and the utility's call back service confirmed it was a limb down that had been removed.
Now the trees are really dancing and the sky is really dark.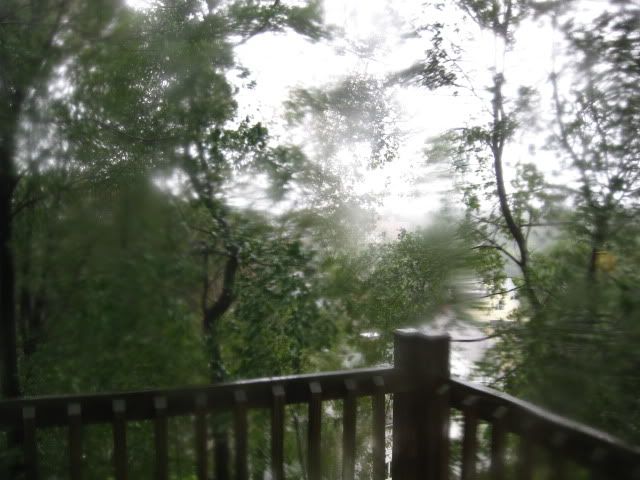 Fingers crossed!
Posted by

Daphne
at 11:43 AM
4 comments


Saturday, August 20, 2011
My friend Elaine and I have fallen into a little tradition at the HLCCA conferences that take place in Pittsburgh. She brings tablecloths that she really does not care for, and I fall in love with them, take them home and attempt to redeem them in her eyes. You can read about the first Challenge Cloth from 2009
here
.
I'd like to introduce you to this year's cloth, a California Hand Prints rooster on yellow.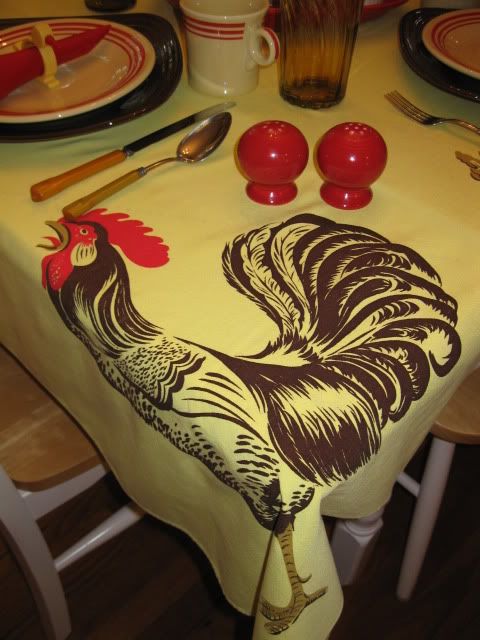 What's not to love about this fabulous fellow? He's a wonderful 50's farm graphic, and it's so nice to find this cloth with the yellow background rather than the white.
I think he crows with happiness at the placesettings and serving pieces in HLCCA Retro Red Stripe Fiesta!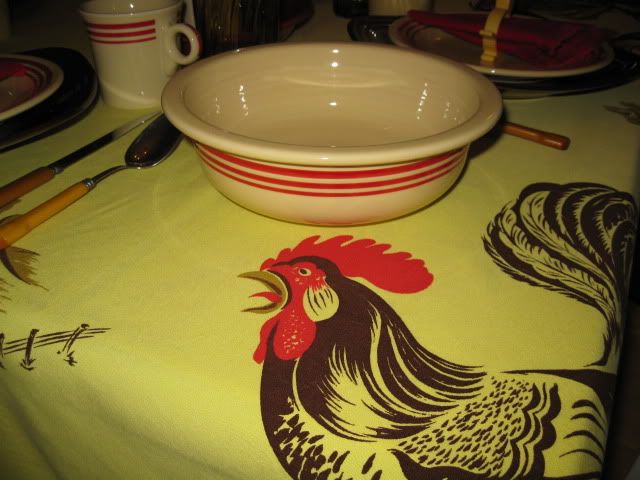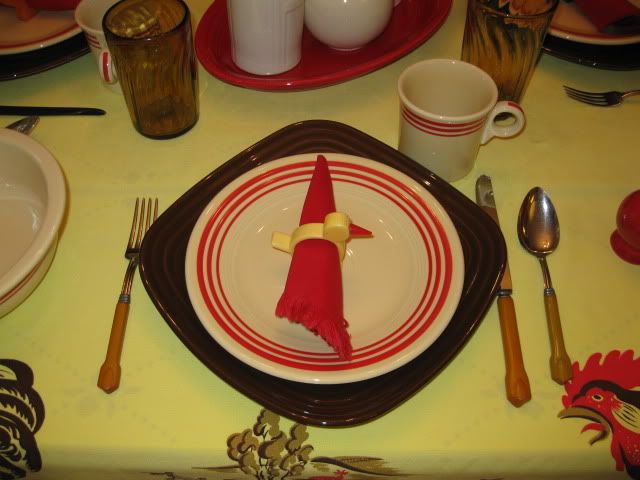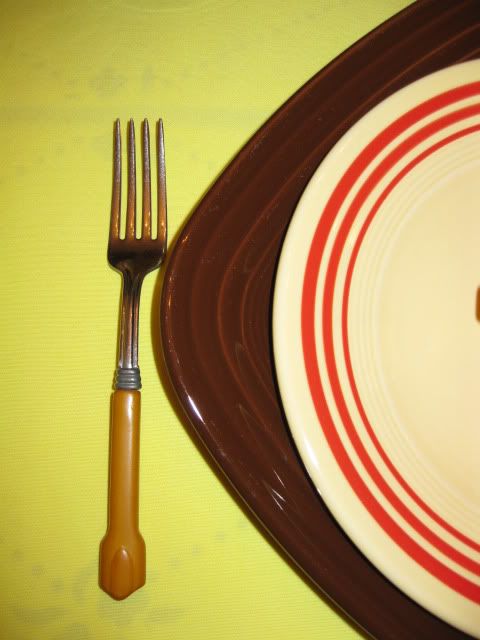 I used this both this cloth and these Bakelite rooster napkin rings for the first time when my mother visited earlier this month. The tablescape was just perfect for a hearty breakfast.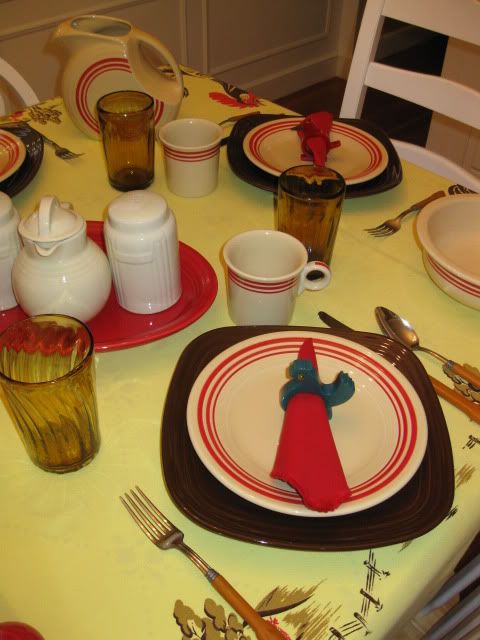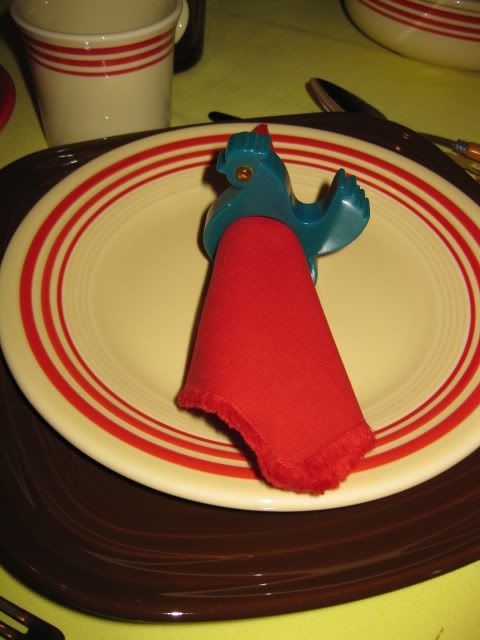 A Hall syrup pitcher and salt and pepper shakers work well with the red stripe. Some folks say the syrup is a little rooster-esque with that "deco comb" on the lid.
I also used Mexican glass water tumblers and Bakelite flatware on the table.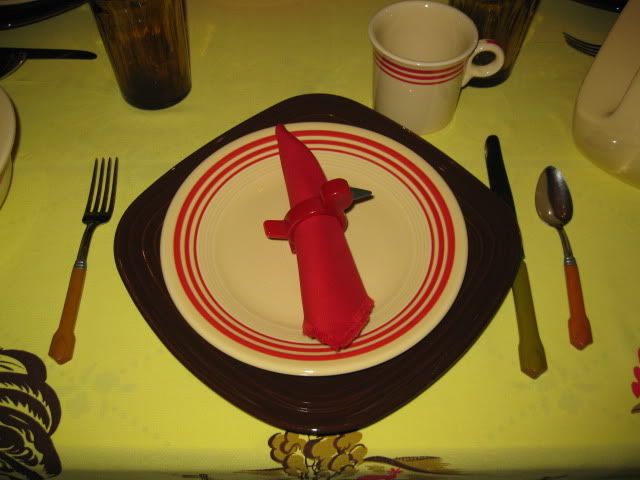 So how did I do, Elaine?
Update: I found a photo of this cloth new in the box for sale on ebay. The
auction
is still active if you'd like one for your tabletop!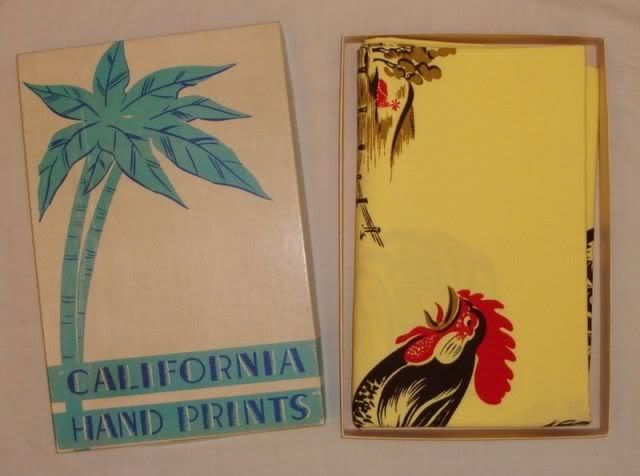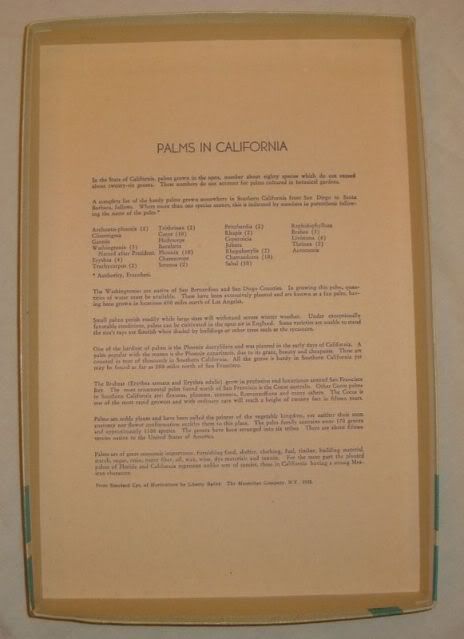 Now we know that the name of this cloth is "Provincial Rooster Comb."
Posted by

Daphne
at 9:30 AM
5 comments