Easter doesn't have to be pastel. I found this mint-with-tag tablecloth in Vermont last weekend, and it's perfect for an Easter table that mixes bright, bold colors with Spring's softer hues.
The cloth is by Royal Art and the pattern is called Eton. I associate that name with an exclusive British boys' school, but I guess Royal Art felt it worked for these florals, too.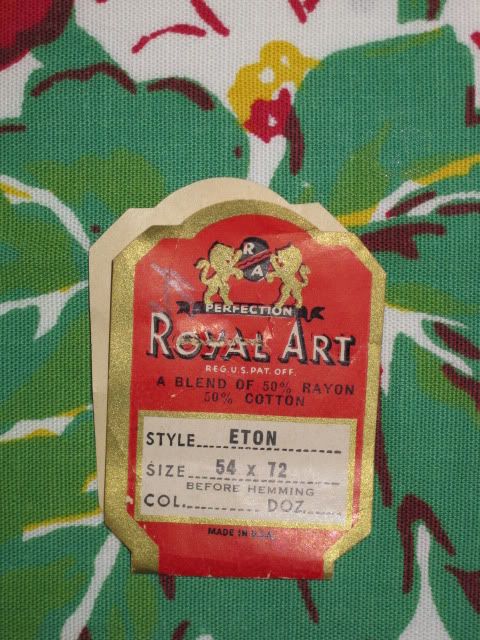 This tablescape features post-86 Fiesta dinnerware in white, shamrock, rose and scarlet paired with vintage Harlequin dinnerware in yellow. Last week's table was all about rabbits. This week the chicks have landed on my tabletop, and Harlequin yellow is a perfect match for their fluffy feathers!
The forsythia in the centerpiece is from our yard. The rest of the blossoms are from the farmstand. The smell of the hyacinths is wonderful!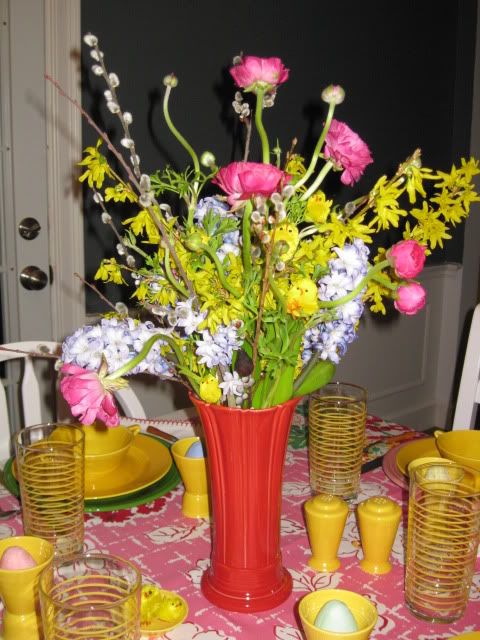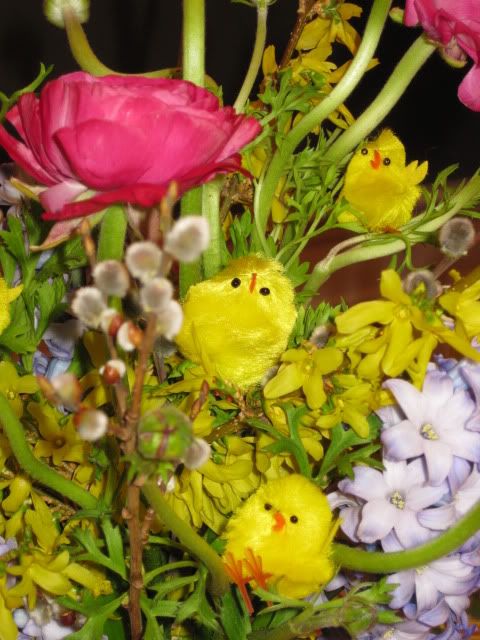 Vintage Bakelite flatware, modern Libbey stripe glassware and napkins from Pier One complete this table.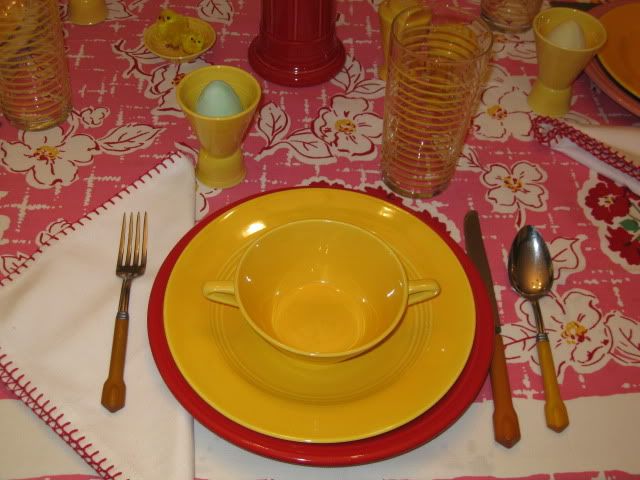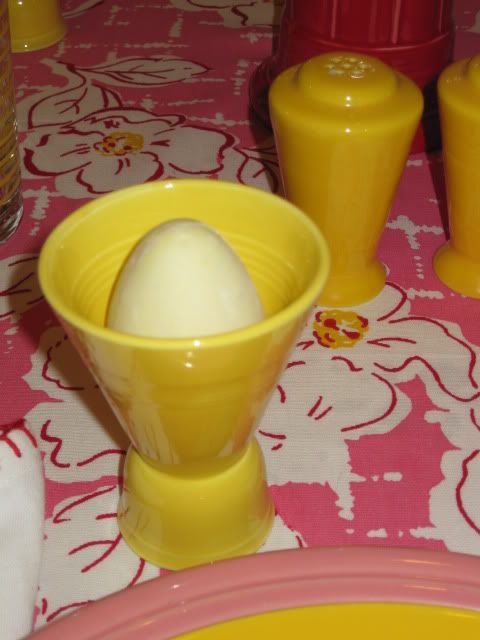 Can you guess what these eggs are made of?
The colors also work well in candlelight.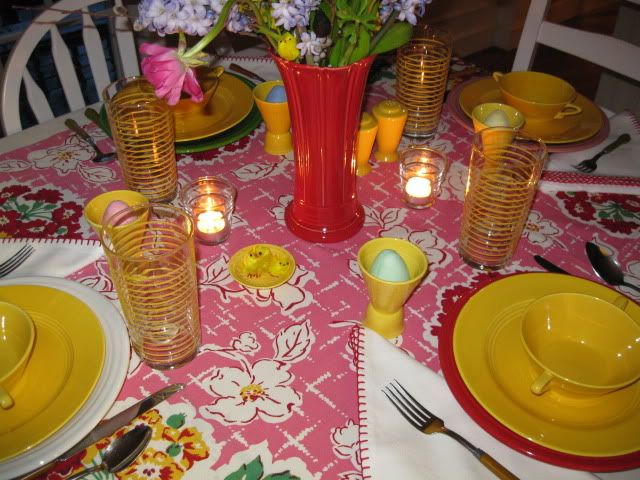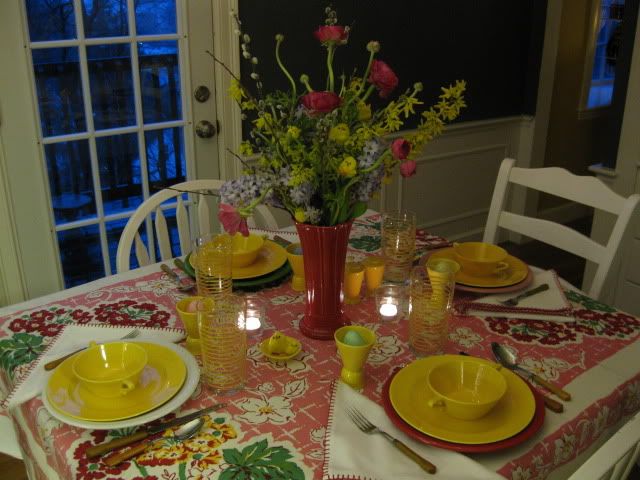 I've been enjoying this tablecloth so much that I decided to give it a second 'scape using vintage Riviera dinnerware and a vintage lucite basket.
The basket is from Maine. I love how it looks with these contemporary napkin rings that I brought home from Bloomingdale's the last time I was in Manhattan.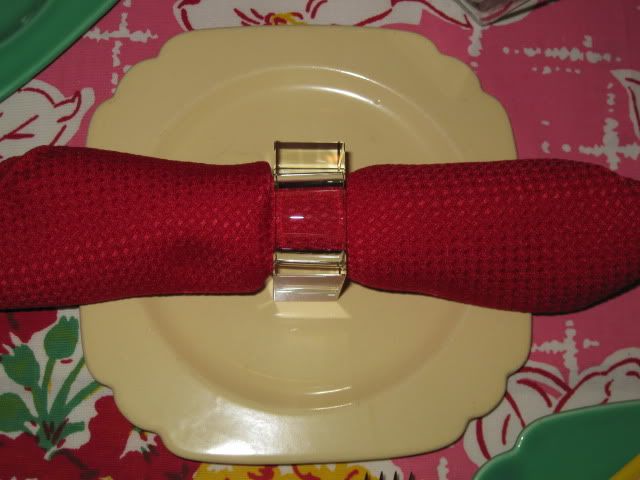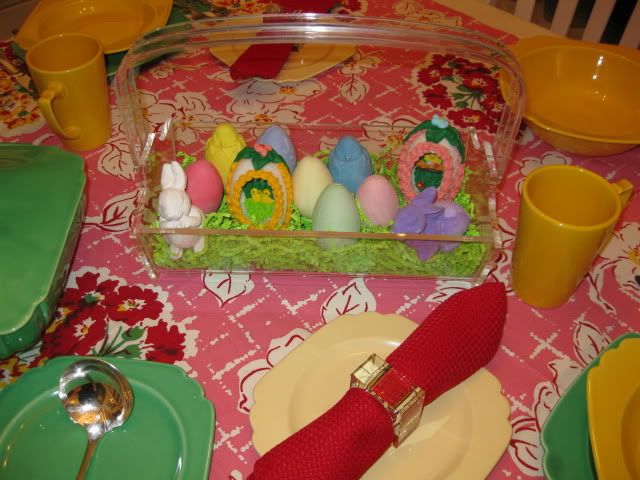 I guess this is truly a town and country combination!
The flatware is Oneida
Deauville
silverplate.
The Art Deco design is very popular with collectors of Homer Laughlin's Fiesta, Harlequin and Riviera.
The basket is perfect for the holiday.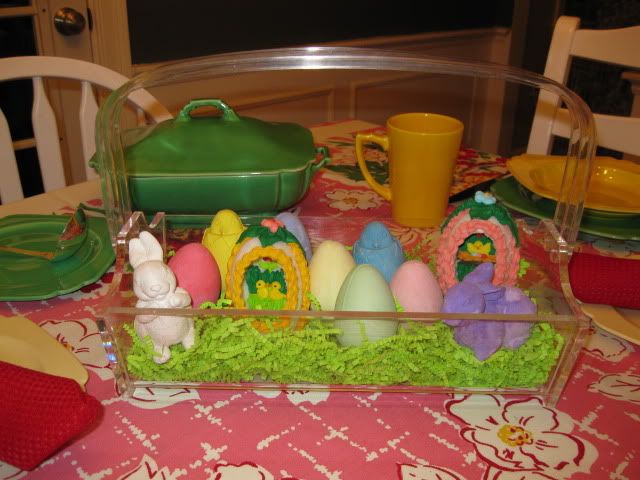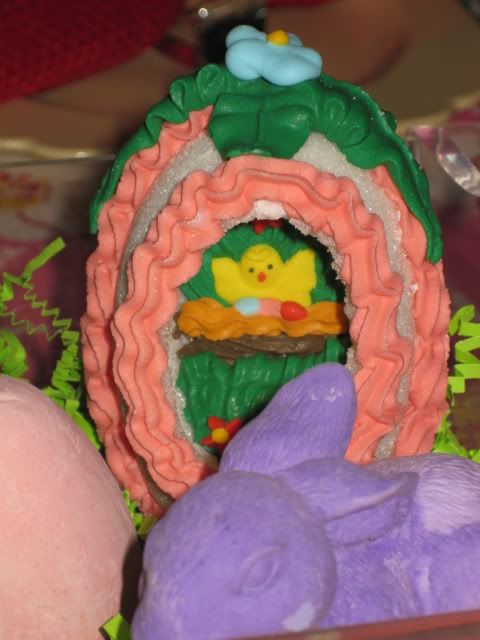 Thanks for stopping by for another Easter
Tabletop Time
. I'd love to know which table you prefer -the Fiesta and Harlequin with the floral arrangement or the Riviera with the lucite accents.
Please do visit all the lovely tables celebrating Tablescape Thursday at
Between Naps On the Porch
.