Today is the two year anniversary of the launch of
Tabletop Time
. In celebration of this milestone, I'm sharing an article entitled "Homer's First Christmas" that I wrote for the current edition of
The Dish
, the magazine of the Homer Laughlin China Collector's Association.
~~~~~~~~~~~~~~~~~~~~~~~~~~~~~~~~~~~~~~~~~~~~~~~~~~~~~~~~~~~~~~~~~~~~~~~~~~~~~~~~~~~~
Homer's First Christmas
For many Homer Laughlin collectors, Christmas tablescapes feature placesettings of P86 Fiesta treatments such as Holly & Ribbon, String-of-Lights or Christmas Tree, the newest holiday line. Homer's first Christmas dinnerware appeared over one hundred years ago using the lines American Beauty, The Angelus, Colonial, Hudson and Seneca. Colonial and American Beauty debuted in the closing years of the 19th century. The other shapes launched between 1900 and 1909, combining the design traditions of European porcelain with the durability of HLC's household wares. Collector guides reveal that buyers could select from three different holly and berry decals for holiday use: a bold Art Noveau interpretation, a naturalistic depiction with gray shading and stylized holly with hand-tinted red berries (treatment number 6009). Salad plates featuring Santa Claus provide a whimsical accent to the naturalistic holly line.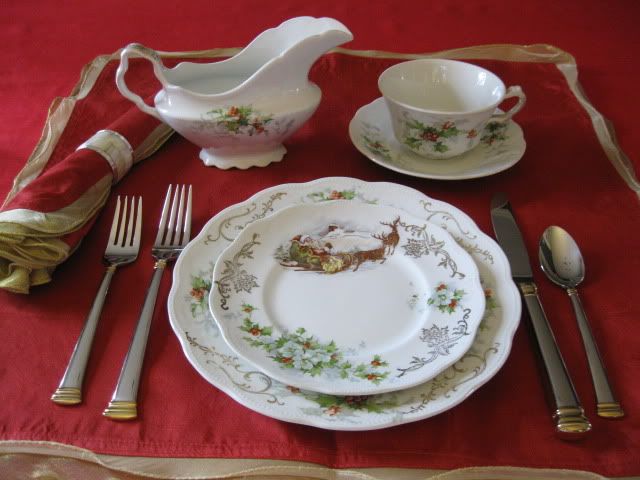 I've been fortunate to find examples of the latter two treatments for my holiday dinnerware collection. I treasure these carefully crafted pieces because of their age and because they are fine examples of the very first offerings of specialized holiday dinnerware in the U.S. My research has not revealed any earlier American made dinnerware with depictions of Santa.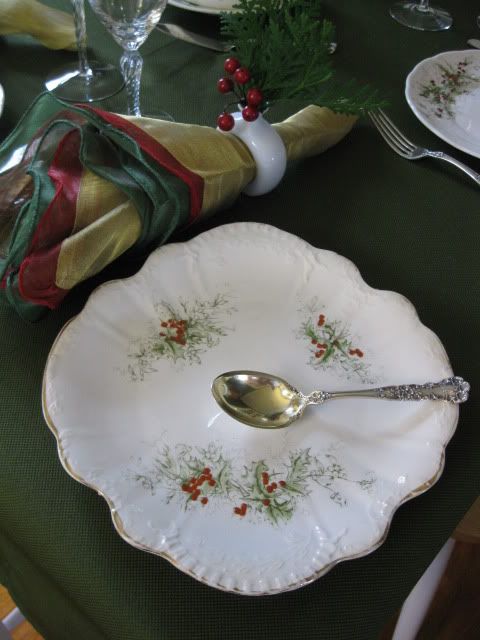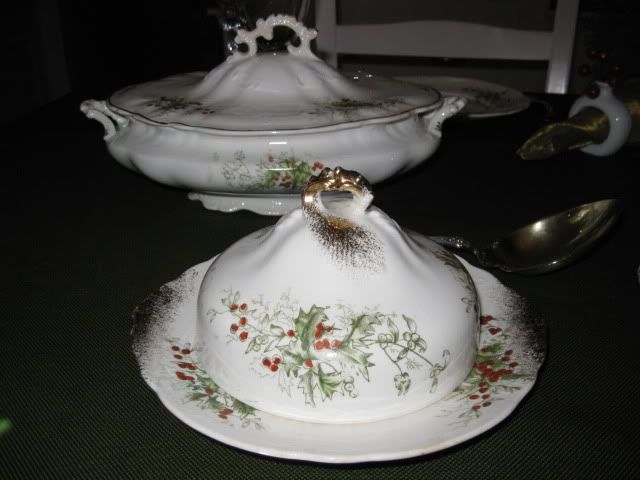 By the early Twentieth Century, America had adapted its own unique Christmas traditions that fused Victorian and German Christmas staples such as the Christmas Tree and Father Christmas with holiday customs brought to the New World by many immigrant groups. During this time of economic prosperity, most Americans who could afford to do so indulged in an elaborate holiday meal requiring many specialized dishes for the multiple courses. The 1903 White House Cookbook proposed the following delicacies: Oysters on Half Shell, Game Soup, Boiled White Fish, Sauce Maitre d'Hotel, Roast Goose, Apple Sauce, Boiled Potatoes, Mashed Turnips, Creamed Parsnips, Stewed Onions, Boiled Rice, Lobster Salad, Canvas Back Duck, Christmas Plum Pudding, Sauce, Vanilla Ice-cream, Mince Pie, Orange Jelly, Delicate Cake, Salted Almonds, Confectionery, Fruits, Coffee. If you preferred you could use your Homer Laughlin service for a Christmas breakfast featuring Oranges, Germia, Broiled Salt Mackerel, Chipped Beef on Toast, Baked Potatoes, Griddle Cakes, Muffins and Coffee.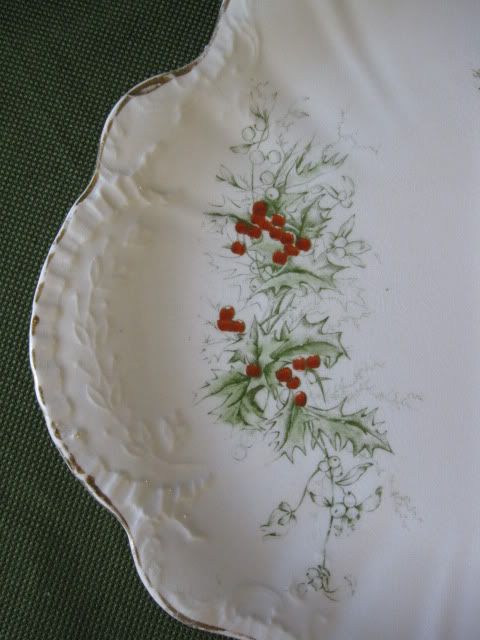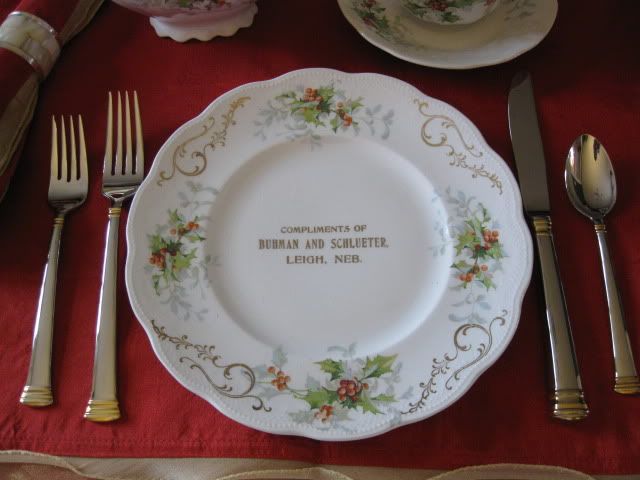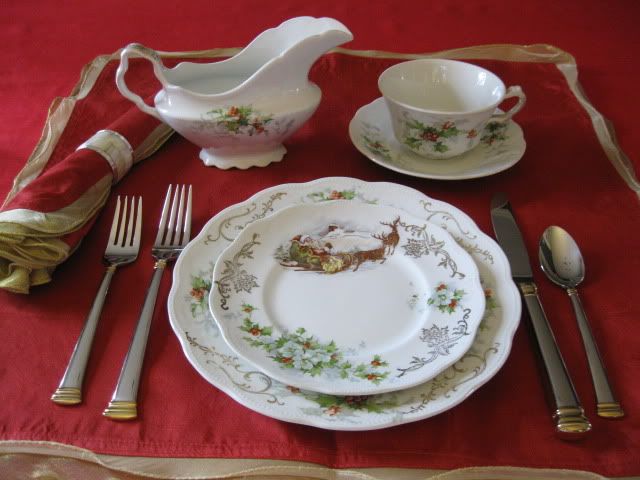 My antique Christmas dinnerware is not called into action on the tabletop, but I enjoy thinking about the American holiday household of yesterday as I integrate these pieces into my holiday décor each year. Did the mistress of the house order her beautiful holly dinnerware from a catalog, eagerly awaiting its arrival in a barrel of straw? Did a family pick up a single piece as a thank you gift at a grocer or furniture store? I'll never know the answers to these questions, but a worn decal or some missing gold trim tells me a story of holiday spirit served with the elegance of American craftsmanship.