We're back home from vacation, and there are many things to celebrate on the tabletop today with this vintage Wilendur
Manjares
tablecloth in the yellow colorway.
First, let's celebrate Summer shopping. The cloth came from the May Brimfield show. Technically I guess that is late spring, but it's definitely worth celebrating! I found these lovely wicker napkin rings with yellow bead trim at a shop in Dartmouth, Massachusetts, my husband's hometown, last weekend.
While on vacation this week, I found four turquoise Harlequin dinner and salad plates. I tend to stockpile cloths at Brimfield, and I never really know when I'll use them on a table. The finding of the napkin rings and the plates was the sign that today is the day for this lovely textile design from 1940.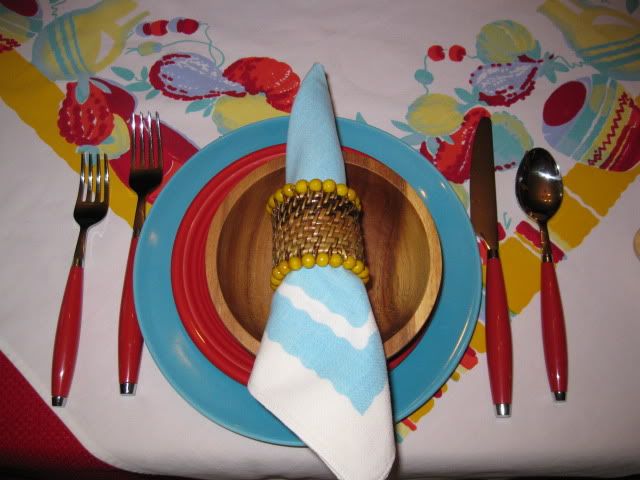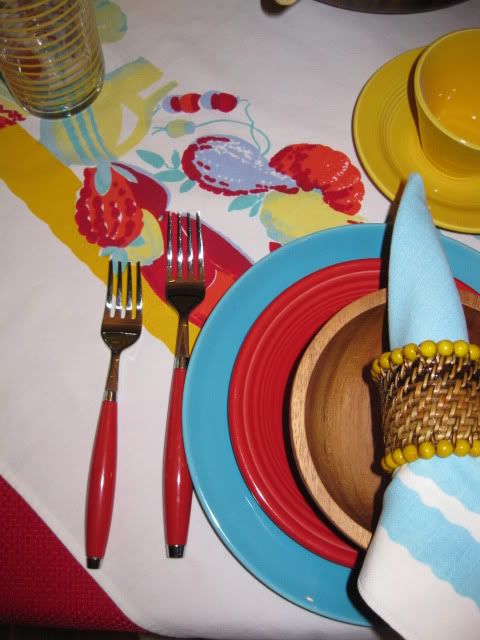 But then this Summer celebration also requires a Summer confession. I must admit that I no longer collect, "only yellow Harlequin!" I feel better now that I've faced that fact, so let's get back to the celebrations!
This week on the website of the Vintage Tablecloth Lover's Club, a member shared a very special article about her father, John Madsen, who was a designer for the Weil & Durrse company, better known as Wilendur. This touching and informative account of Mr. Madsen's work discussed how he worked from home but would often have to take the train in from New Jersey to the company offices in New York to make changes to the colors on the tablecloths as his design was being transferred from paper to cloth. Notice how well the colors in
Manjares
coordinate with the vintage yellow, turquoise and blue Harlequin.
I included this touch of blue to illustrate this point. I wonder if any of the changes that Mr. Madsen had to make were due to the fact that Wilendur kept sample dishes in their offices to help with this colorific coordination? And now that my dish confession is behind me, I can share that I have a good bit of Harlequin blue to go along with the yellow and the turquoise...then there's the reissue...and the gray plates....but I digress!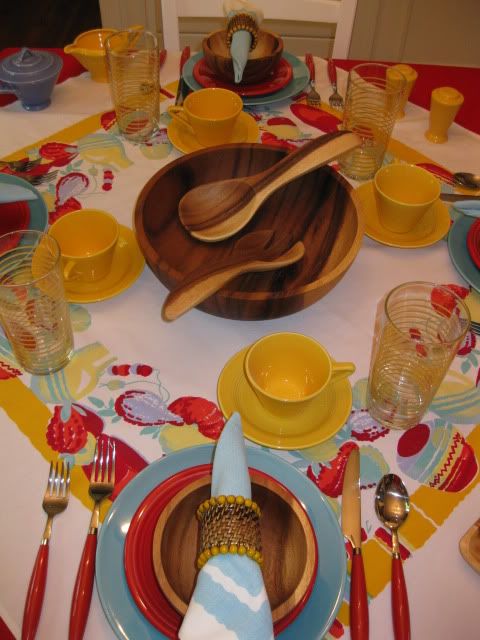 Let's celebrate the amazing work of John Madsen for Wilendur!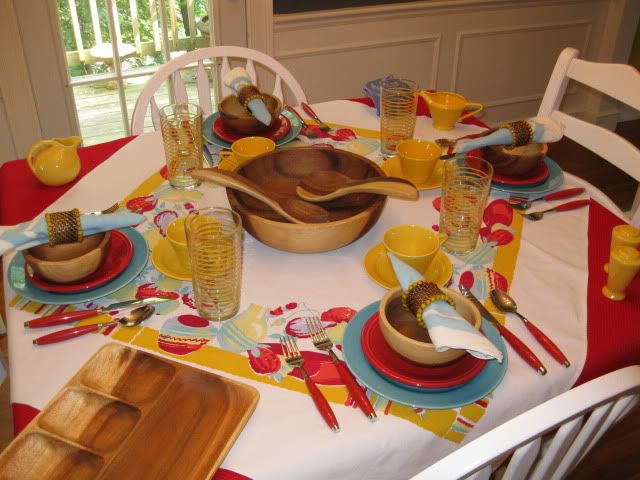 Do you feel like we're building up to something special here? I do hope so, because the third tabletop celebration for this Summer Sunday is a hearty Happy Birthday to Elaine, my friend who taught me about the wonderful world of Wilendur!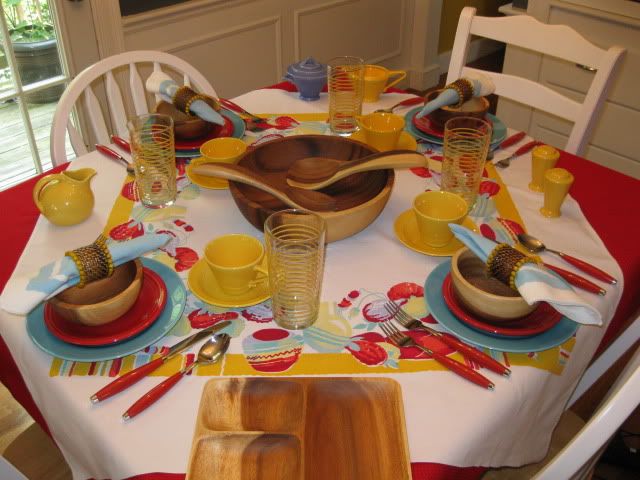 All best birthday wishes, Elaine! I hope you had a super day.
The other items on this table include yellow stripe Libbey glasses, Fiesta flatware and salad plates in scarlet, a wooden salad set from Crate & Barrel that we received as a wedding gift and vintage napkins from Elaine!
Please do join all the other tablescapers to hear about their Summer Sundays at
The Tablescaper
!