Looking back, Brimfield 2009 was a great time for Mexican themed cloths. Michelle Hayes calls this pattern
Mexican 2
. I suspect that she might have assigned this name herself rather than taking it from a label, since it was made before the cloth called
Mexican
. She indicates that this cloth was designed in 1937 by Jacob Durrse. The colorway pictured in her book is green. This blue colorway is perfect for sapphire Fiesta.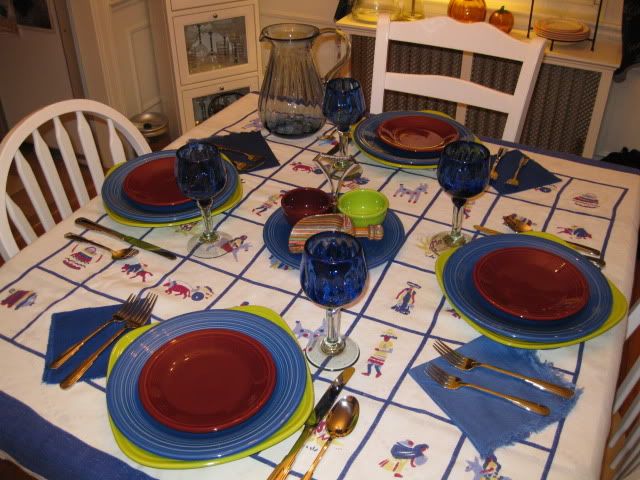 This tablescape features Fiesta dinnerware, Mexican glass, Oneida
Cityscape
flatware, vintage napkins and a wooden scoop from a Dishfairy. The centerpiece features a fiesta clock plate blank converted to a tidbit.
If you like this tablecloth, take a look at this tribute to
Toastmaster
. The design is simliar but with different figures and items in the grid. I think that this orange version was another company's take on the Wilendur cloth. Wilendur was often imitated in the textile industry.