We're coming to the end of my
Cinco de Mayo
tablescape tale. I can't believe it's taken me this long to share my very first vintage tablecloth on
Tabletop Time
. I purchased this cloth in Tallahassee, Florida at an antique fair in 2004 or 2005. At the time I though it was perfect to go with my yellow Harlequin and blue Mexican glass, and the cloth with its matching red and blue cocktail napkings has not disappointed.
Here it is in my 2009 exhibit at the HLCCA conference paired with the Harlequin and Century with the Sleeping Mexican decal.
I've also used it in many tablescapes featuring Fiesta. I seldom do a shot with food, but here's one from a past Mexican supper.
And a practice 'scape featuring a woven paper serving tray that we received as a wedding gift from my friend Juleen.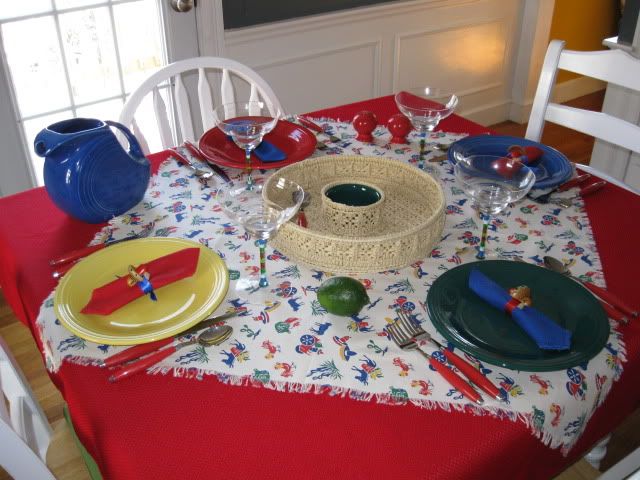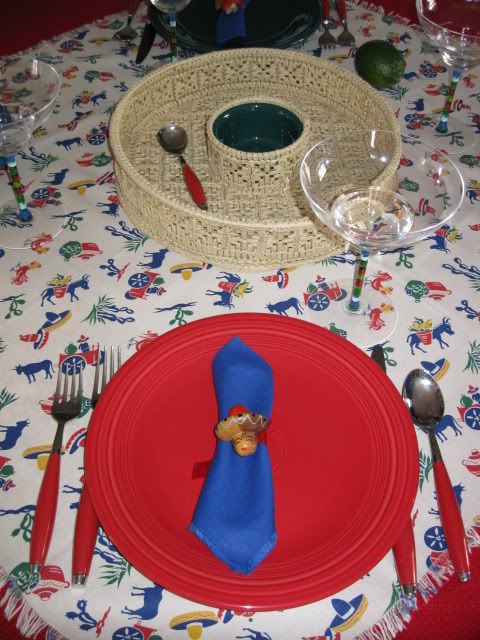 I fashioned these napkin rings using vintage curtain push-pin tie backs. I used the pin back to puncture a piece of ribbon and then covered the pin with a piece of cork for safety. The little Mexican faces are easy to tie on the napkin.
Now I really want to eat some Mexican food!