I went back to Brimfield today. The weather was perfect, and I was with my friend Karen for her first visit to the fields. It's always so fun to be with a first-timer!
I purchased two tablecloths and a platter.
There would have been red and blue Riviera handled tumbers in these photos, but the dealer dropped and broke them as he was wrapping them. :(
I'm so glad I found this platter to banish the memory of that awful clinking sound!
This Homer Laughlin shape is called Brittany, and the treatment is
Constellation
. It debuted in 1937. I have often admired this pattern in blue and black, but I had never seen it in maroon before. I think this pattern will work well with P86 cinnabar. You can see a nice shot of the treatment in blue on my friend Sue's
web site
.
I also learned a lot about the things that Karen collects: salt glazed storage containers, pewter and stone fruit. These will look wonderful in her 1780's farm house.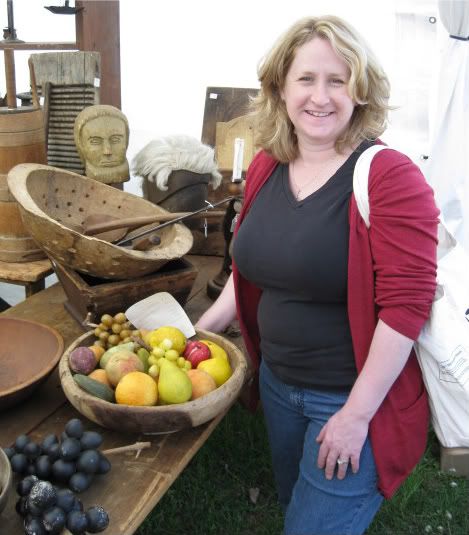 All in all, another wonderful day!