The Autumn chill is really in the air today, and I'm getting out all of the tablecloths I like to use for the season. Some are beloved favorites that I love to revisit every year. Others are new finds from the hunt that I can't wait to get on the tabletop. To help me organize my tabletop plans, I took a stroll down memory lane with a few photos from last year. I thought you might enjoy two tables from 2009. I think they are great choices to share for
Seasonal Sunday
at
The Tablescaper
and Sunday Favorites at
Happy to Design
. This is my first link to
Sunday Favorites
, so welcome to the table if you're finding my 'scapes for the first time via that site.
I really like the story behind this 1950's cloth. At the 2009 HLCCA conference, my friend Elaine dubbed it the "challenge cloth," a polite way of saying that it was a textile only the designer could love. Truth be told, I was thrilled to take it home with me, because I knew it would be the perfect backdrop for my then-budding collection of Homer Laughlin
Ovenserve
.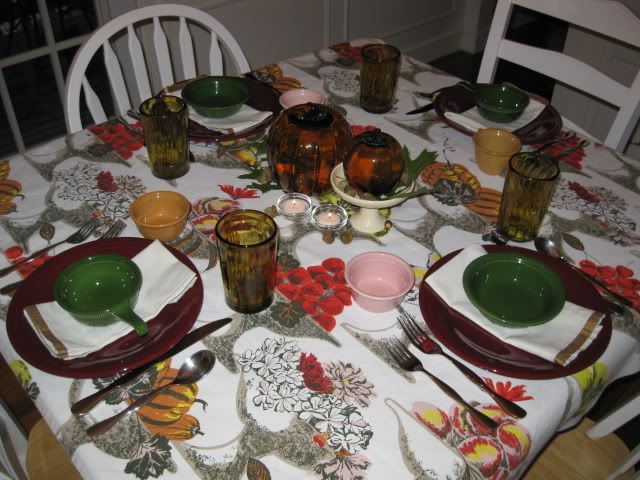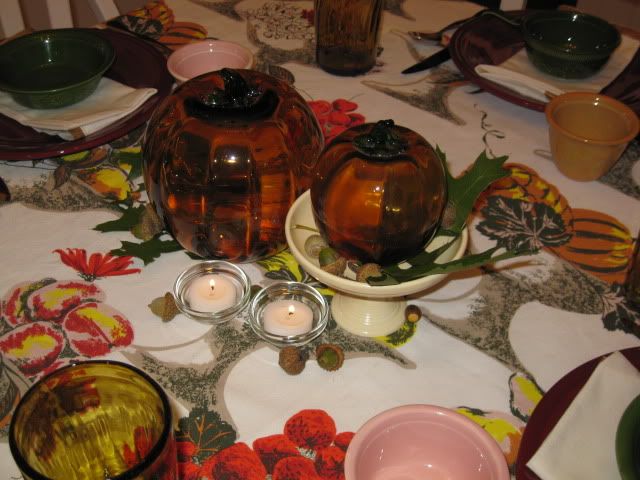 The post-86 Fiesta dinner plates in cinnabar are a great foundation for the Ovenserve in pink, dark green and pumpkin. The small comport is vintage Fiesta. I've had the glass pumpkins for several years, and the amber Mexican glass is from Pier One. The table also includes Oneida no-name flatware and gold-trimmed napkins.
I entered this context in the tablescape contest hosted by
Colorful Dishes
. Colorful Dishes is one site that every tablescaper should know!
The next tablescape memory features a vintage Vera from the 1960's or 70's in bold colors that was most difficult to tame until chocolate Fiesta was introduced. I presented a placesetting from this table in my
Tabletop Time
exhibit at the 2009 HLCCA conference.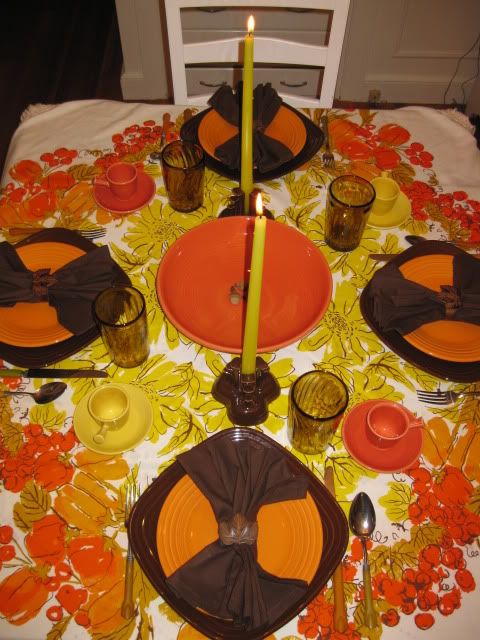 The chocolate Fiesta square plates are joined by chocolate pyramid candle holders, a persimmon presentation bowl, tangerine lunch plates, sunflower and persimmon after dinner cups and saucers, the same amber glasses, vintage Bakelite flatware and chocolate napkins in Pottery Barn leaf napkin rings. The napkin rings were a gift from a good friend who CANNOT understand my tabletop obsession, but feeds it none the less...a true friend indeed!
Thanks for jumping into the tabletop timemachine with me. Now I'm going back to work on my organizing so that I can work on some new 'scapes for 2010.