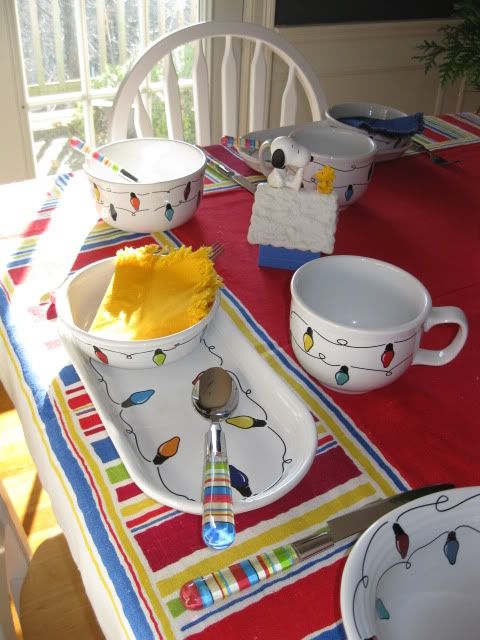 Last month the Flatware Fairy was hard at work selecting a holiday pattern for the Divas for 2012. At the same time, I found this wonderful vintage tablecloth at a shop in Newburyport, MA. I think there was a psychic connection at work that day, because this flatware pattern looks as if it were custom made for this cloth.
Add the Fiesta
String of Lights
dinnerware, and here you have my first Christmas tablescape of this season.
String of Lights
is exclusive to the
Bon Ton
Department stores, and I think it launched in 2005 or 2006. The lights feature the colors of Fiesta dinnerware, and the color combinations change as new colors are added and old colors are retired. New pieces are also added to the line, including this small bowl for 2012. It's just perfect on the bread tray!
The oval vegetable bowl was my first piece in this line. I purchased it in Burlington, VT while at a conference in 2006.
The annual ornaments joined the line in 2007. I'd love to add the 2qt serving bowl to my collection. I spied one at Brimfield a couple of years ago, but I was so loaded down with Riviera dinnerware purchases that I did not stop to buy it. There has been one on ebay this season, but the decal is damaged. My search will continue.
Dish buddies helped me to acquire the pieces that I have, and I know I can call on the network if needed.
Fizz approves of this table, because it contains greenery and pine cones. Fuzz is still figuring out this whole tablescape thing.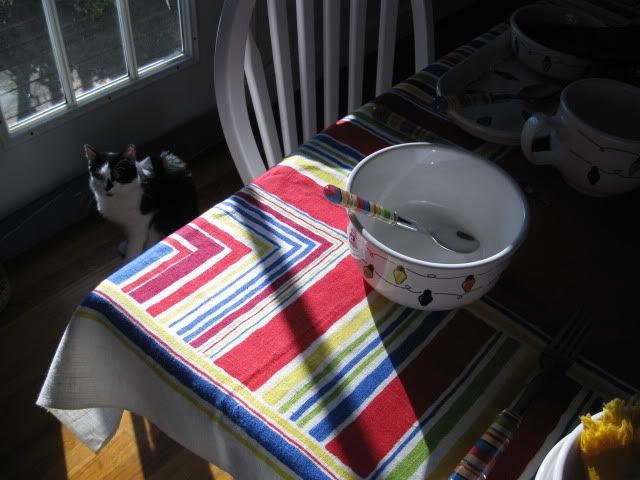 I think the bright sun is the biggest draw for my kitten! Let's see if he becomes more engaged as we continue to celebrate the holiday tabletop!
The Divas have their holiday parties going on as well, and I am still on cloud 9 from the special shout-out they gave me earlier this week.
The Little Round Table
Dishing with Carafaye
MyBecca's Vintage Tables