Here's a post from last year to kick off the Valentine tables for Sunday Favorites at Happy to Design. This post originally appeared on February 8, 2010.
February has so many great tabletop holidays~Valentine's Day, Chinese New Year,
Mardi Gras
. Let's get started with a Valentine's table for two!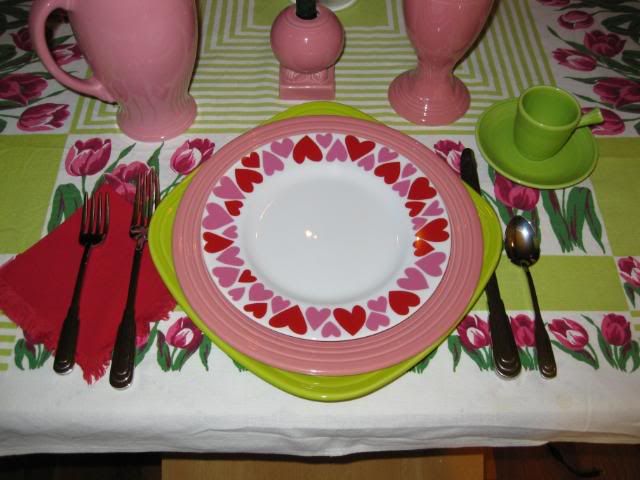 My fabulous CMG Secret Santa gave me this amazing Startex tablecloth with pink and fuschia tulips on a field of lemongrass. How did she know that we always use tulips to celebrate Valentine's Day at my house in honor of the 3 milli one vases that my husband brought me for our first Valentine's way back when?
This table also features P86 Fiesta dinnerware lemongrass square plates, rose dinner plates, a rose coffee server and creamer and sugar set, and goblets in white and rose and chartreuse stick-handled demitasse cups and saucers. The heart plates are from Crate & Barrel. The Oneida Cityscape flatware rests on vintage cocktail napkins . The centerpiece is a white milli one vase with droopy tulips and rose bulb candleholders with green candles.
Won't this cloth look great with fuschia Fiesta, whenever that day comes?