Today's post for
Tablescape Thursday
over at
Between Naps On The Porch
is the result of a collaboration among four far flung friends loosely known as the Dish Divas or Tablecloth Fairies, who often bestow unexpected gifts upon their fellow collectors and share a mutual love for Homer Laughlin dinnerware and both contemporary and vintage table linens.
The four fairies bringing you Coast-to-Coast Visions of Sugarplums today are Fairy Daphne from Tabletop Time in the Boston area and Fairy Elaine from lovely Virginia, along with their west coast counterparts Fairy Rebecca from the Pacific Northwest and Fairy
Candy @ The Little Round Table
from the fringes of the San Francisco Bay Area.
*****************************************************
Merry Christmas from Virginia!
Elaine whets your appetite for Christmas with a vintage California Hand Prints gingerbread man tablecloth layered over gingham and featuring HLCCA polka dot Fiesta dinnerware, vintage Vistosa dinnerware and all manner of sweet treats for your Christmas Eve dreams!
Don't you just love the dainty little ruffle on the Vistosa? The flatware is post-86Fiesta.
Elaine reports that the napkins and napkin rings are from Kohls. The candy votive holder, bread plates and red glasses are from Pier One. The green glasses are a yard sale find from last summer. All the gingerbread odds and ends accent the snow globe are a mix of things borrowed from the Christmas tree! "When I think of 'sugar plums' and Christmas sweets, I think of old fashioned hard candies, gingerbread, chocolate mints, and home made sugar cookies." Mr. Gingerbread invites you to indulge!
Did you enjoy your Southern sugarplums? Now you can wipe your mouth and get ready for still more sweets in New England!
*****************************************************
Merry Christmas from Boston!
I think I've been as excited for this week's Tablescape Thursday as I have been for Christmas! It's so special to do a quadruple tablescape!
On my tabletop you will find a vintage Vera candy jar tablecloth as the anchor for Fiesta dinnerware plates in HLCCA polka dot and Betty Crocker peppermint. The flatware is Cambridge
Dot Gingham
or
Duplex Happy
. The napkin rings are a lucky find from a local shop. The napkins are Pier 1 last year (back in stock for this year), and the glassware is Crate and Barrel.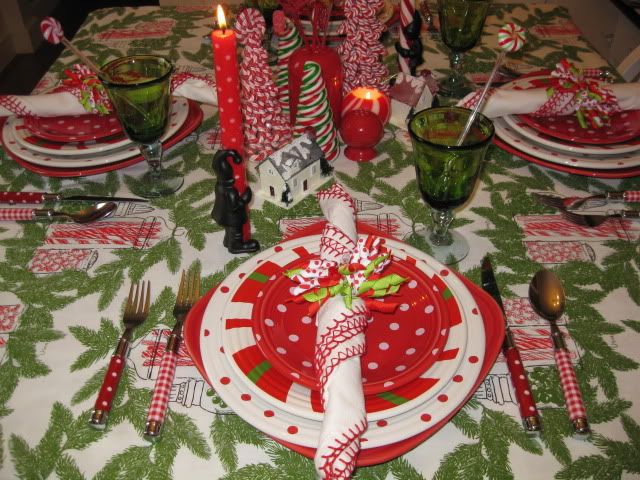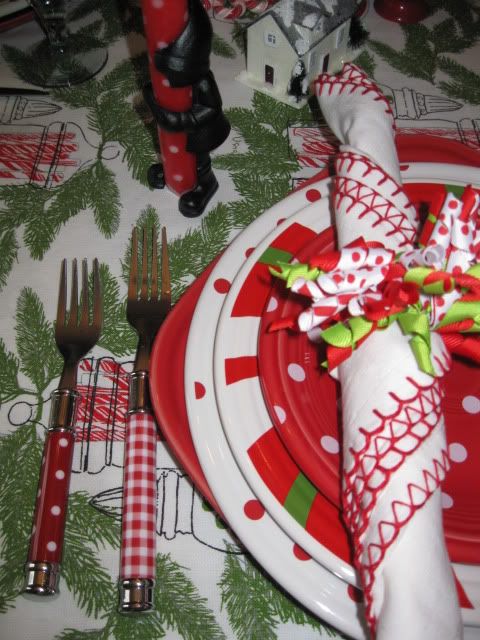 The centerpiece is a study in Christmas over-the-top. When my metal gumdrop tree did not arrive as scheduled, I used the Fiesta cheese shaker to improvise a base for the tree. Other elements include peppermint trees and elf candle holders keeping watch over the miniature Candyland. The residents here are so lucky. They need only glance out the window to for their holiday sugarplums!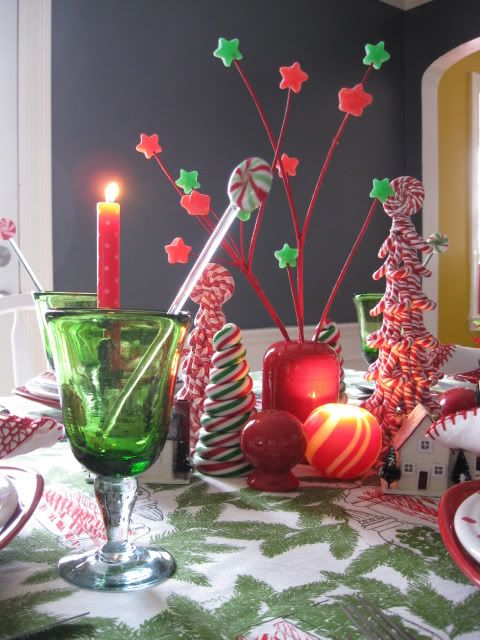 How about a closer look at the placesettings?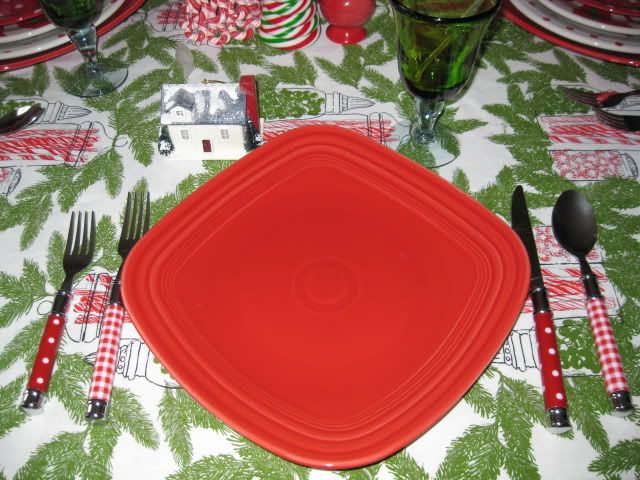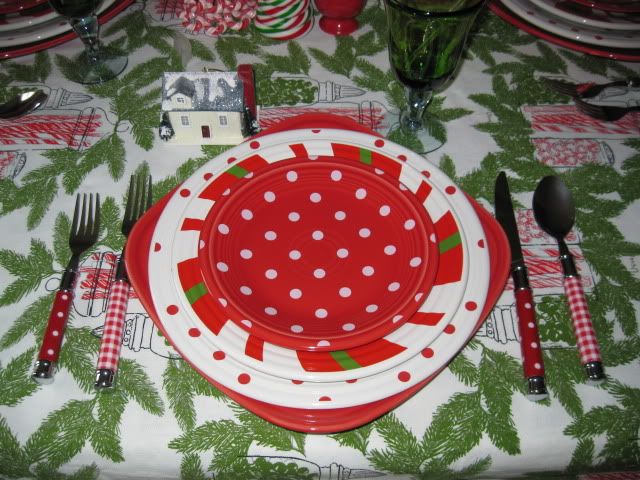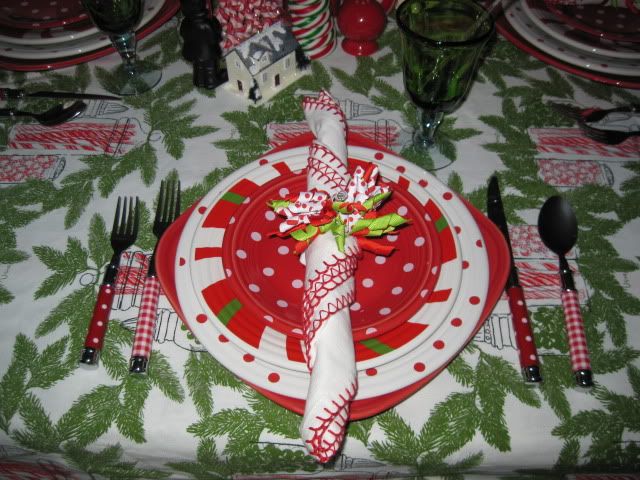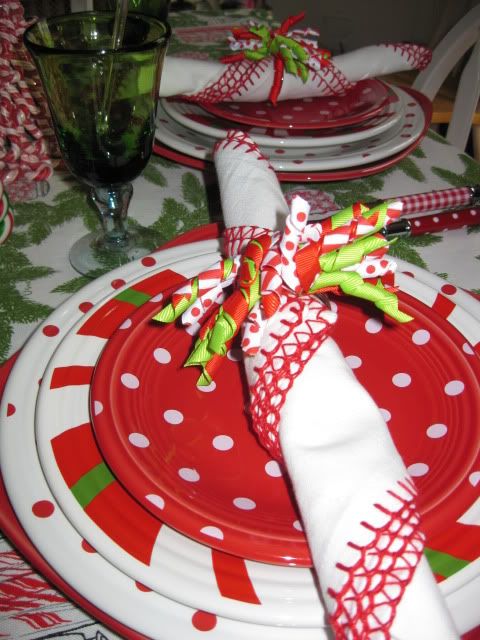 Thanks for sharing our quadruple sugarplum fun! All best holiday wishes from Candy, Daphne, Elaine and Rebecca!