Ready for more peppermint? Let's start with some simple stripes.
The tablecloth is from Crate & Barrel. The glasses are Libbey. The flatware is Fiesta, and the napkins were a gift from a good dish friend who shares my passion for peppermint. The tapers are from Pier One.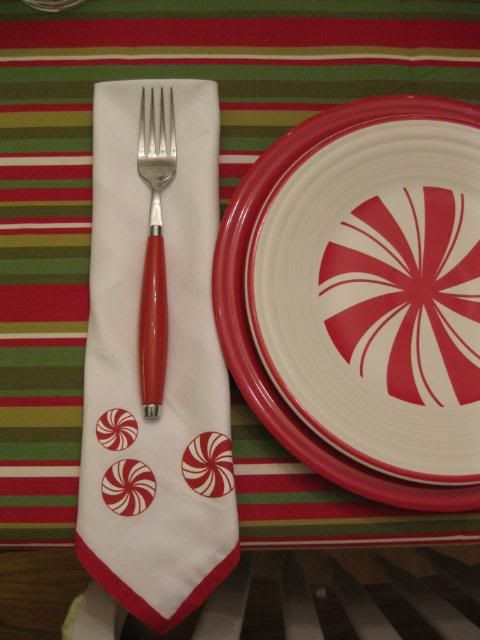 Let's take the table top activity up a notch with some Betty Crocker peppermint and a few more accessories.
The tea towel is also Crate & Barrel. I've seen oilcloth tablecloths with that candy pattern. The glassware is from TJMaxx. The peppermint ball candle is from my Fiesta Secret Santa. The pillar candles are from Yankee Candle a few years back.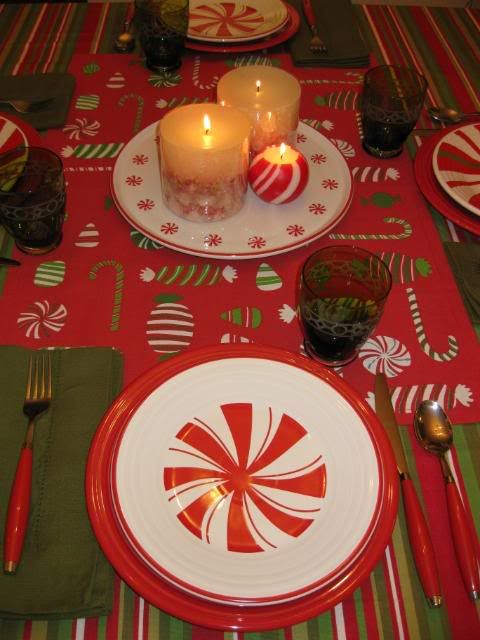 The last entry in the peppermint parade takes things over the top with a patterned vintage cloth and a vintage elf tea set.
The cute knitted candy canes are also from my Secret Santa. The candy stripe trees are from my mother.
I think this cloth was homemade. I've seen it for sale in a variety of sizes and with different border trims. I like how this fringe brings in a little blue.
Thanks to all who contributed to these expressions in peppermint!
One final entry may make it to the parade this year...a Vera cloth I've had my eye on for a long time. It's in transit...please keep your fingers crossed and stay tuned.