Fruit-themed cloths are another favorite of mine, but I think of them as summer tablecloths. I was thrilled to find this fruit cloth with pine cones at Brimfield in May. Don't you find that the pinecones lend a nice autumnal air to the primary tones on the fruit?
The placesettings are vintage Harlequin with Oneida
Deauville
flatware. The napkins and the harvest napkin rings are gifts from my friends Kathy and Saarin respectively. I do love it when my table comes together courtesy of dish friends! Thank you, K&S!
The vintage Libbey glassware puts pinapple in a cornucopia...another great nod to the season.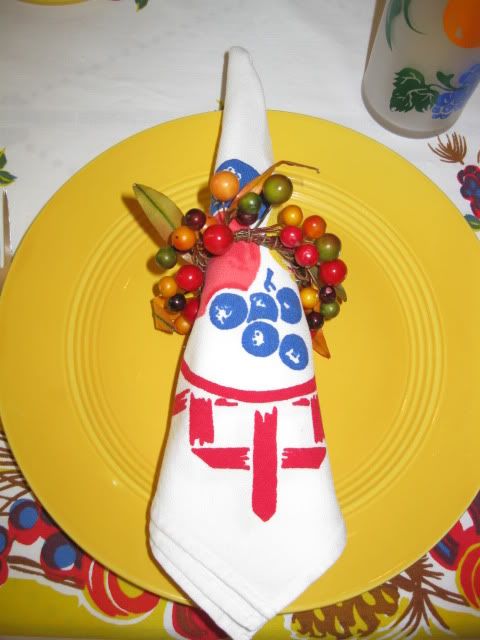 A few special Harlequin pieces make the hearts of collectors sing!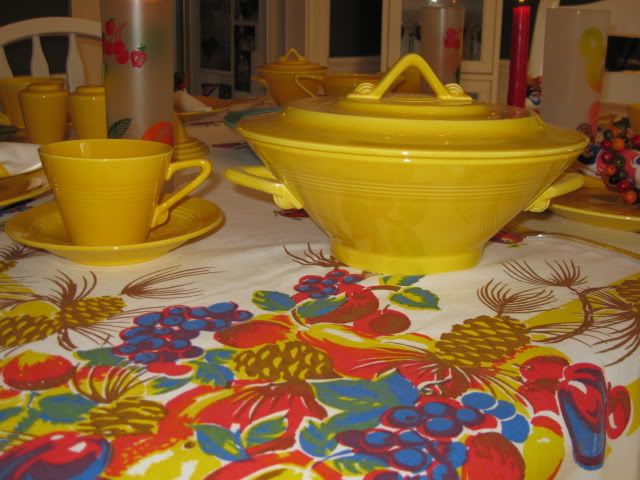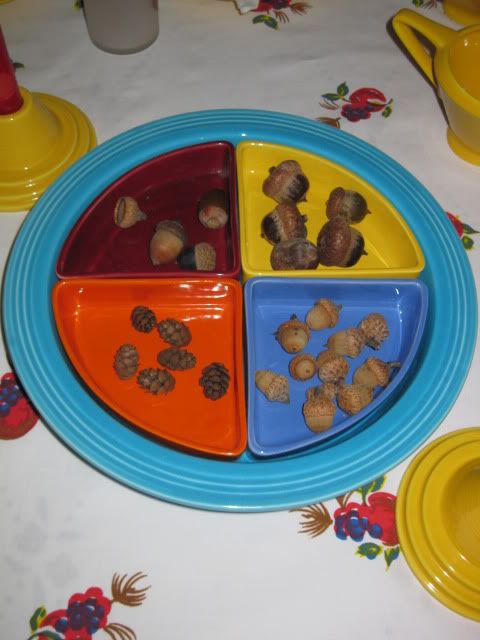 The Harlequin relish tray is the perfect display for the variety of acorns filling the yard right now. I'll use these for holiday decor and then feed them to the squirrels on a snowy day this winter.
So, do you like this cloth in yellow? In honor of
Tablescape Thursday
at
Between Naps on the Porch
, today's Tabletop Time offers a double tablescape.
My friend Elaine found this cloth in blue while out dishin' in Virginia!
How cool is that?
Elaine's table features vintage Fiesta dinnerware in chartreuse and red with maroon striped cake plates and a Riviera pitcher in blue. She got an amazing bargain on this pitcher...it was meant to be used with this cloth, don't you think?
This placesetting also includes contemporary plaid napkins, pine napkin rings and post-86 Fiesta flatware in chocolate.
Elaine also slipped in a little Harlequin...and I do mean little. The individual creamer and the nut dish are just so cute!
How about a little candlelight to go with your fruit and pine cones?
Fiesta egg cups in chartreuse, red and amberstone make a fabulous centerpiece.
And some Riviera/Tango salt and pepper shakers in case you need a little more seasoning.
I really love the chocolate pine cones on the blue border!
Elaine, thank you so much for tablescaping with me to welcome the new season! Now you've got us all wanting to come on over and play with your dishes, quilts and tablecloths!
Oh I do love this Tabletop Time...so many dish friends are in on the act! Elaine also hosts a blog. Do check out
Dishing with CaraFaye
!