Halloween is slowly creeping onto my tabletop. I'm not quite ready for the full blown orange and black 'scape. That one is still in the works. How about a little Simtex plaid to ease into the haunting time?
Our house is a 1941 Cape Cod, and true to form, we have small defined rooms. You won't find any open concept layout here. As a result, buffets work really well for us when we want to have more than 6 guests over for supper. I had originally envisioned this table as a tailgating party, but when I got out the CVS Peanuts figurines, the seed was planted. A quick conversion of our vintage enamel top table and
voila
...a trick-or-treat buffet!
The dishes are vintage Harlequin dinnerware in yellow, gray and turquoise with a multi-colored relish tray. A Harlequin jug holds the post-86 Fiesta flatware. The Libbey stripe glasses in yellow and red are still available at Target. I found metal holder at Goodwill. The red napkins are from Kohl's last year.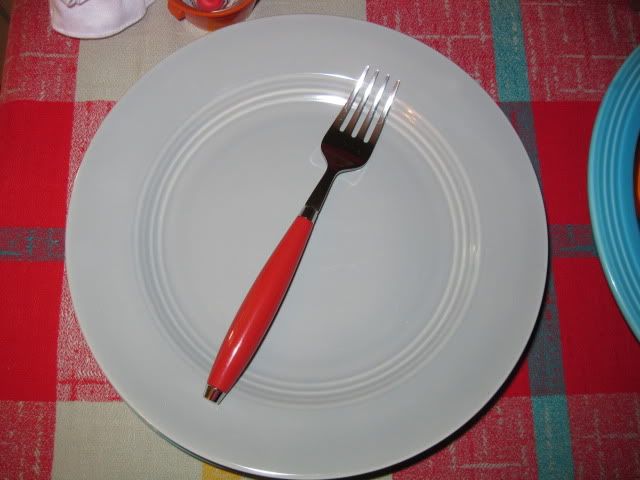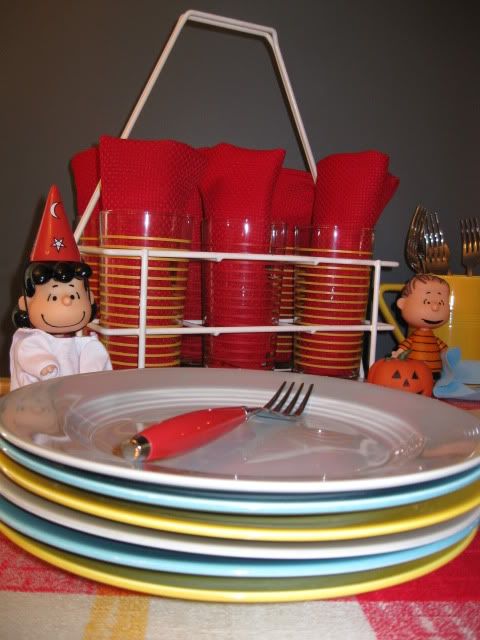 The Peanuts characters are from CVS about 4 years ago, I think. Just in case you don't know CVS, it's a drugstore chain out of Rhode Island. We seem to have one on every block in metro Boston, along with the Dunkin' Donuts! They have offered a set of the characters each year now, with new costumes for each reissue. I'm partial to this set, since it features the costumes from the show that I grew up anticipating each fall. Do you recall waiting eagerly each year for CBS to air "It's the Great Pumpkin, Charlie Brown" ? In the days before DVD's and VCR's, entire households revolved around this event. As adults, it's not really Halloween for us until we've watched at least a portion of the show on DVD.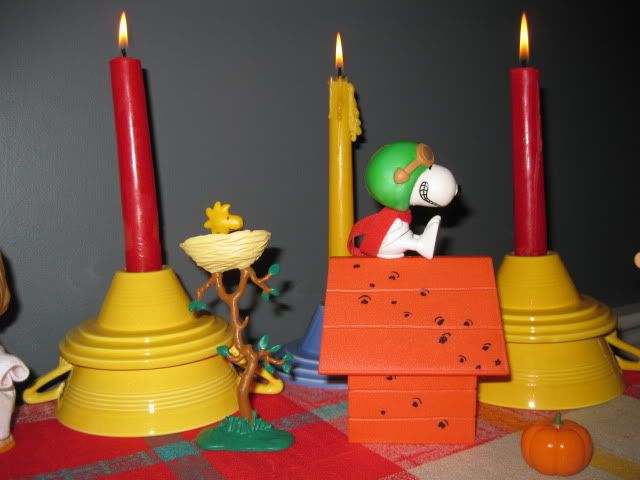 Poor Charlie Brown...all he got was a bag of rocks. Snoopy barely survived the Red Baron, and Linus is still searching for the Great Pumpkin. Remember, "My lips touched dog lips!"?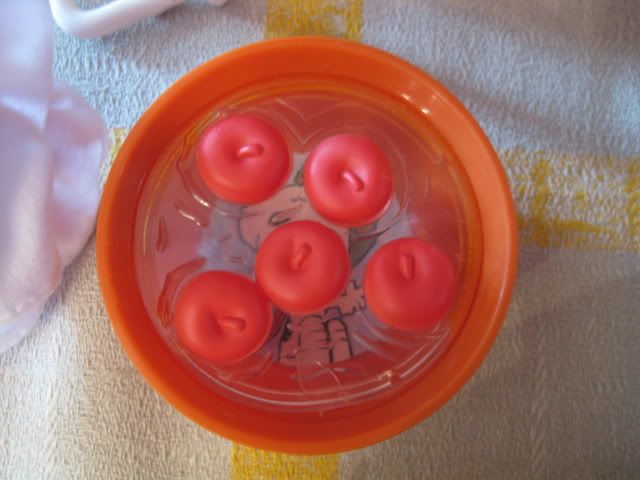 Snoopy is waiting for Lucy in the bobbing barrel!
Wishing you only "sincere pumpkin patches" for this
Tablescape Thursday
at
Between Naps on the Porch
and for this Halloween season!