Let's take the harvest theme in a totally different color direction. Two years ago I found these charming embroidered tea towels. Vintage Halloween linens are scarce, so I was very excited to see this jack-o-lantern on a vibrant red background. Last year, I found a matching tablecloth on ebay from a seller in Canada.
Since that time, I've seen a few more of these tablecloths in shops. I think that there must have been a pattern in a popular ladies magazine of the day. I generally don't favor embroidered table linens, but I think these are special. I hope that you will agree.
Last year I enjoyed using the cloth with vintage Riviera dinnerware. The tea towels were perfect for draping over the doors of my Hoosier-style cabinet.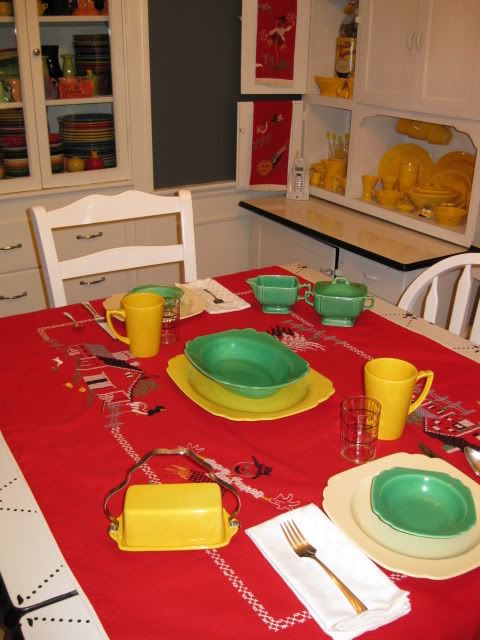 For 2010, I'm bringing the milk glass chicken egg cups to the tabletop and pairing them with Harlequin plates and serving accessories. The flatware is post-86 Fiesta in scarlet, and the napkins are from Pier One last Christmas. The glasses are Target versions of French rooster-themed glassware.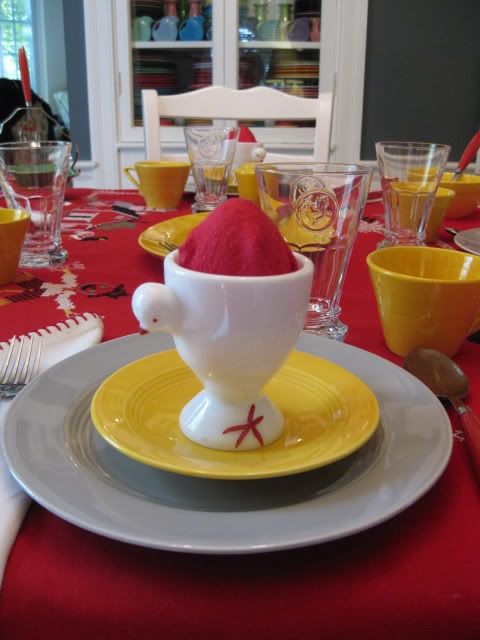 I put the saucers under the egg cups in order to reveal as much of the embroidered design as possible. The red fabric-covered eggs in the cups photograph so much better than sweating real eggs from the fridge!
I especially love the scarecrow, and the mailbox really captures the farm wife's lifeline to the world beyond her homestead.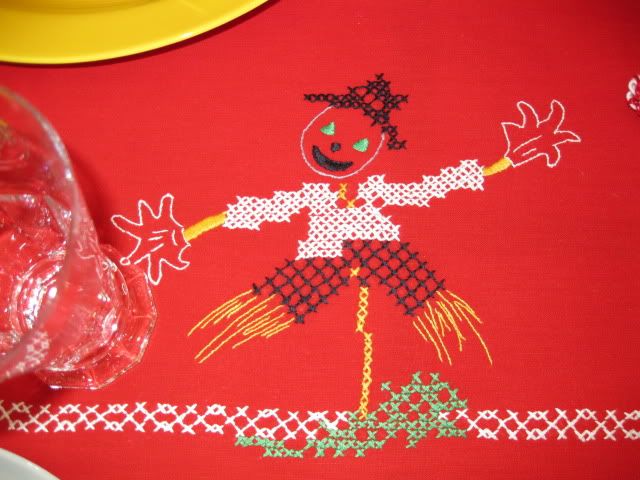 Thanks for taking your seat at the table! I'm sharing this entry "better late than never" for
Tabletop Tuesday
at
A Stroll Through Life.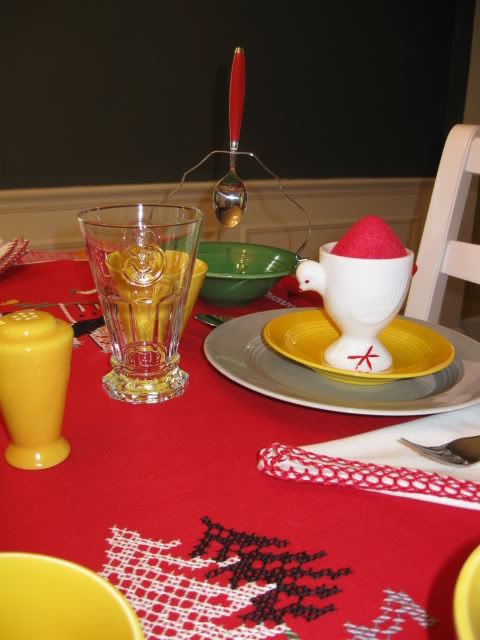 Did you notice the plaid cloth peeking out from under the embroidered cloth? Do stop back by on Thursday to see a Halloween table featuring this Simtex beauty!