When I started working on my
tablecloth database
for
Tabletop Time
, I realized that I have created a good many tablescapes that I've never shared on the blog. Today I'm sharing one of these pre-blog 'scapes for
Alphabe-Thursday
at
Jenny Matlock
, where the letter of the week is
W
.
The Weil & Durrse Company of New York was a leading maker of printed tablecloths from the 1920's until the mid-1980's. Most collectors today know them by their shortened name of Wilendur. The Wilendur lobster cloth is a coveted design, and mine is special for two reasons. Yes, I love the beautiful rendering of lobsters, clams and parsley. But I also treasure this cloth because it cemented my friendship with fellow collector Elaine as we wished, wanted and waited together for lobster cloths that we could afford. Our quest was fulfilled in a few lucky weeks in July 2009 when cloths were found at Brimfield and in a shop in Southern Maine. We celebrated our finds with an article in
The Dish
, the publication of the
Homer Laughlin China Collectors Association
. After all, when Fiesta folk are really happy, we show it by tablescaping!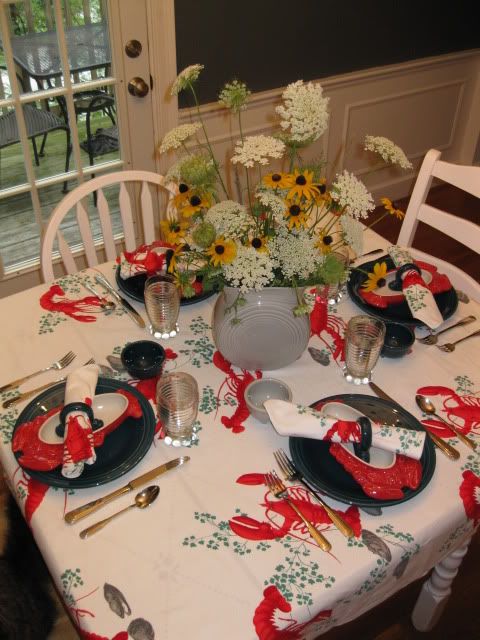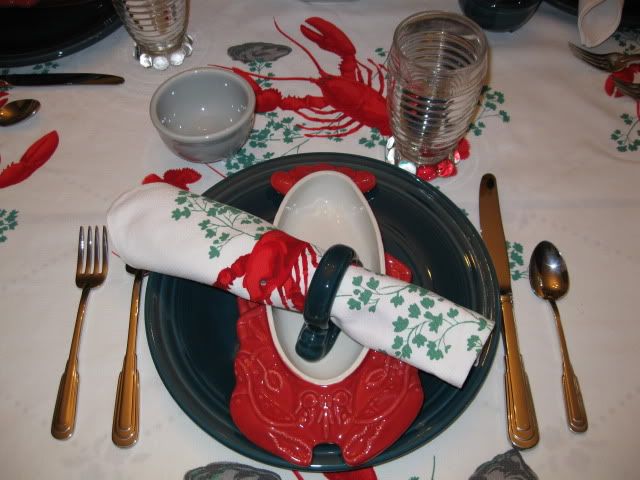 This table features Fiesta and Fiestaware 2000 dinnerware in juniper with Hall lobster plates,
Manhattan
Depression glass and Oneida
Cityscape
flatware. We were fortunate to find the matching napkins as well!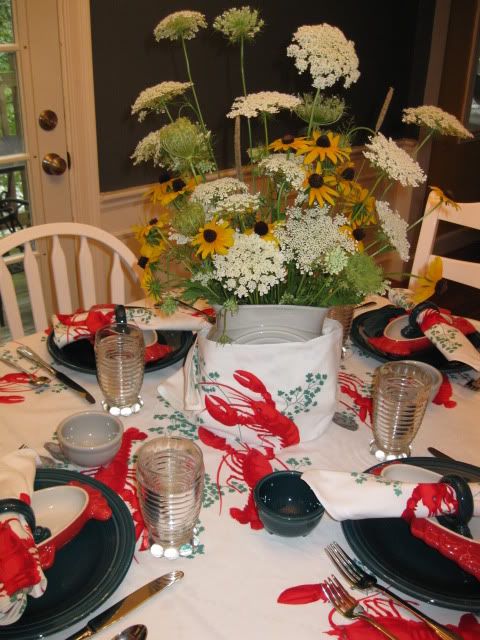 I hope you enjoyed your encounter with the wonderful world of Wilendur! For more lobsters, do visit Elaine's table at
Dishing with CaraFaye
, Candy's
Little Round Table
or Becky's
Random Musings of a Deco Lady
. Have you done a lobsterscape with this wonderful linen? If so, tell me about it in a comment and I'll add a link to your table!