I'm working on a little Tabletop side project, and I need to give these marigold fish their very own post! I hope you enjoy revisiting this table from September~
I've been waiting to make this marigold/turquoise/pink tabletop for a very long time. The individual fish-shaped casseroles are vintage
Chicken of the Sea
premiums. It's challening to find a set in four colors with the metal holders...hence the wait! I was thrilled to add this set to my pottery collection earlier this summer.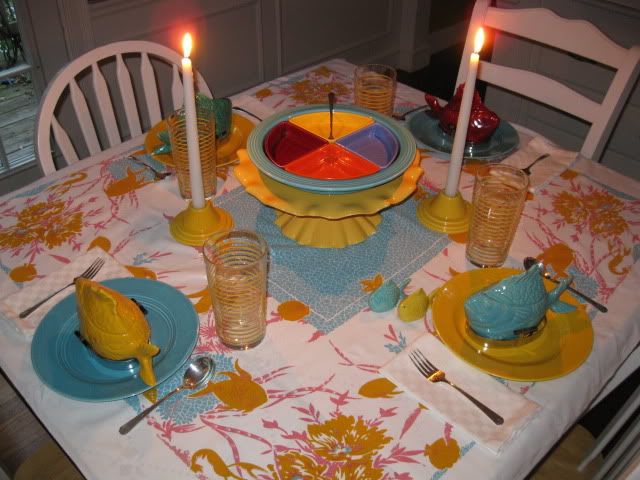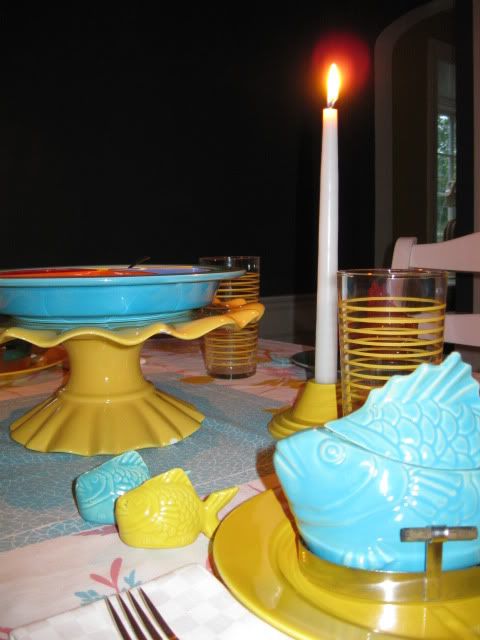 This tabletop is less elaborate than the others, but I wanted to keep the emphasis on the individual casseroles. The Harlequin relish tray and candleholders make a strong centerpiece. The relish tray rests on a Crate & Barrel ruffled cake server. This piece has chipped over the years, but I still enjoy it.
Other items on this table include Libbey striped glasses, Oneida
Deauville
flatware, Harlequin plates,
Chicken of the Sea
salt & pepper shakers and Ikea napkins.
This tablecloth also comes in a lilac/chartreuse and pink/gray versions. Please do post a comment if you have seen this cloth in another colorway or have any information about the manufacturer.
You can read the original post for this tablescape in
Fish Three Ways
.