I like to think that my dish collection can handle any occasion. Presidents' Day could be a time to pull out the scarlet, white and sapphire Fiesta dinnerware. Let's take a look in this cabinet of vintage dishes instead.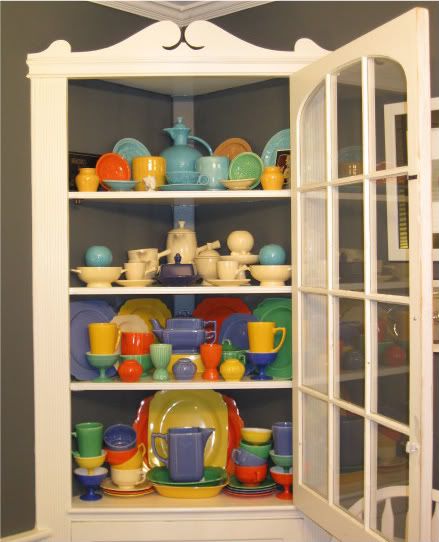 See anything that we can use to mark this celebration of Presidential birthdays? Let's move in a little closer...
There's a President in my dishes!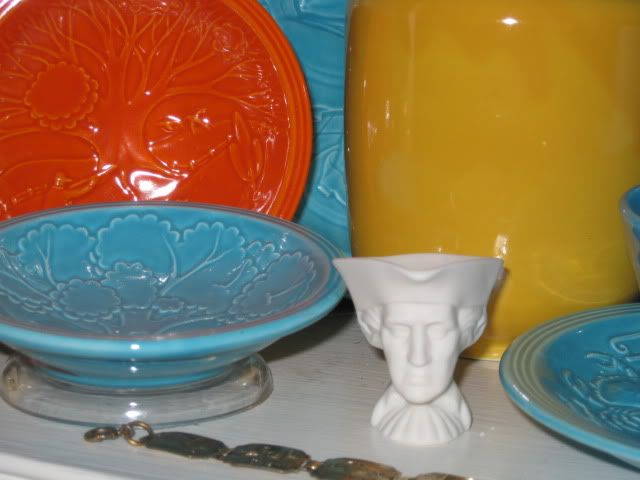 This little George Washington pitcher is a souvenir from the 1939 New York World's Fair. The fair opened on April 30, 1939, the 150th anniversary of Washington's inauguration. The pitchers featured both George and Martha Washington and were available in a number of sizes.
Attendees could find these pitchers at the exhibit of the American Potter in the Home Furnishings/America at Home building. The Homer Laughin China Company, The Hall China Company, The Edwin M. Knowles China Company, The Paden City Pottery Company, The Cronin China Company, and the National Brotherhood of Operative Potters sponsored the exhibit to celebrate American made pottery and dinnerware.
Here's George back on the shelf nestled among other souvenir items from the fair: vases, potter plates, four seasons ashtrays and a zodiac cup and saucer.
Happy Presidents' Day!
I'm sharing this President in the dishes for
Seasonal Sunday
at
The Tablescaper
.