O, my love is like a red, red rose,
That is newly sprung in June
~Burns
June brides. June roses. Today is a day for red roses indeed. Abbey, the daughter of Deco Dish Diva Becky of
Ramdon Musings of a Deco Lady
, is marrying her Prince Charming Donnie at Disneyworld. Becky commissioned special Fiesta dinnerware favors to celebrate their union. The fabulous Mother of the Bride then passed along some of these beauties for a little Blogland fun. Here's my rose filled tabletop tribute to Abbey and Donnie!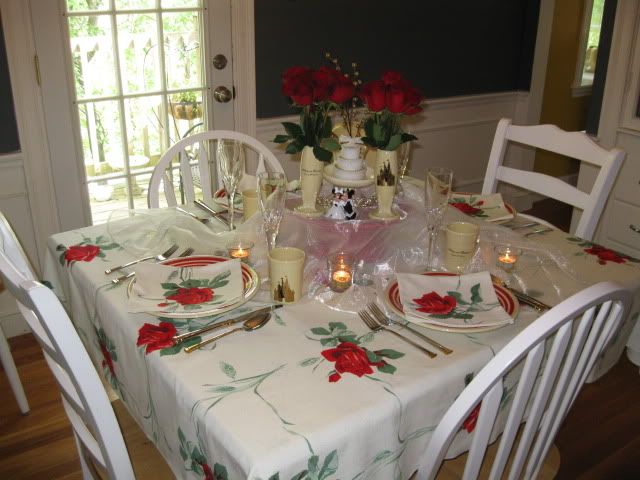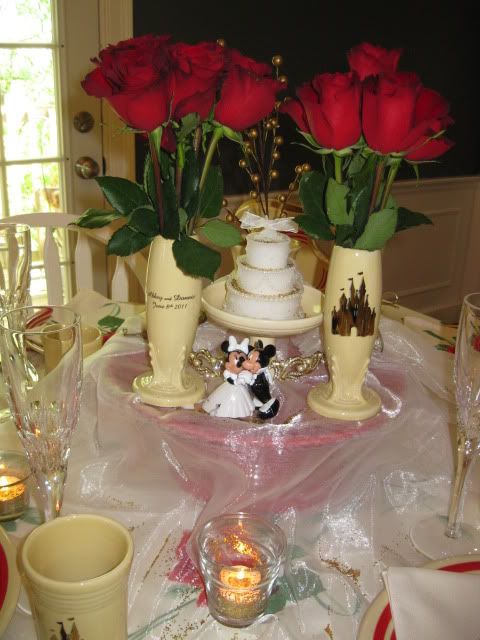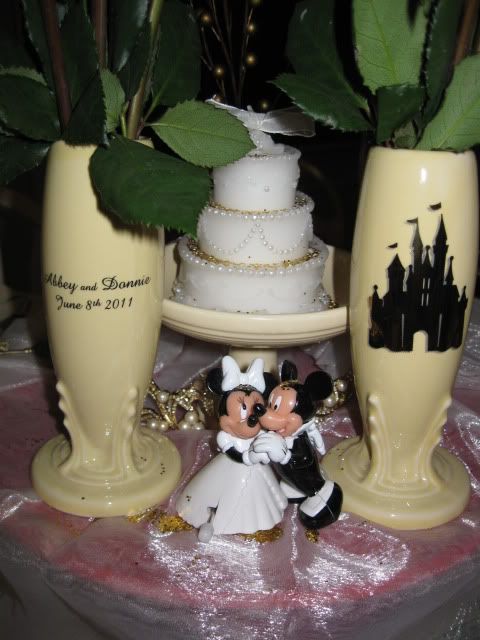 Yes, that's Cinderalla's Castle on the ivory Fiesta budvases and tumblers. This tabletop also features an America's Pride
American Beauty
tablecloth and napkins. America's Pride is a brand of Weil & Dursse. The Fiesta dinner plates, vase and pitcher are HLCCA excluse retro red stripe. A scarlet Fiesta cake plate rests on a scarlet hostess bowl for the centerpiece base. The flatware is Lenox
Eternal
gold. The champagne flutes are Waterford
Elberon.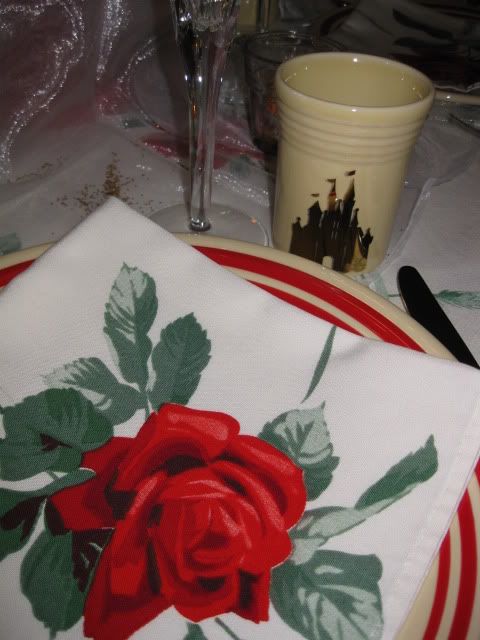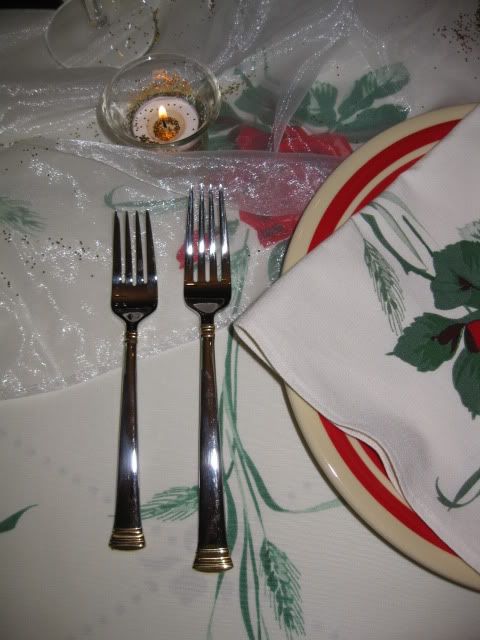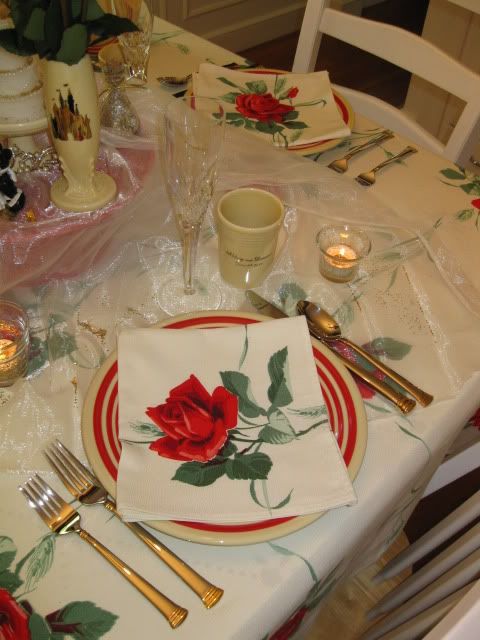 Let's take a closer look at some of the special details in the centerpiece.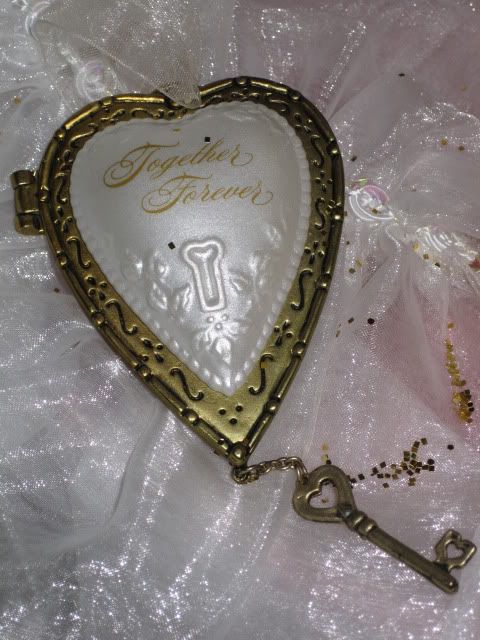 Tinkerbell has made sure that this marriage is launched with the magic of fairy dust!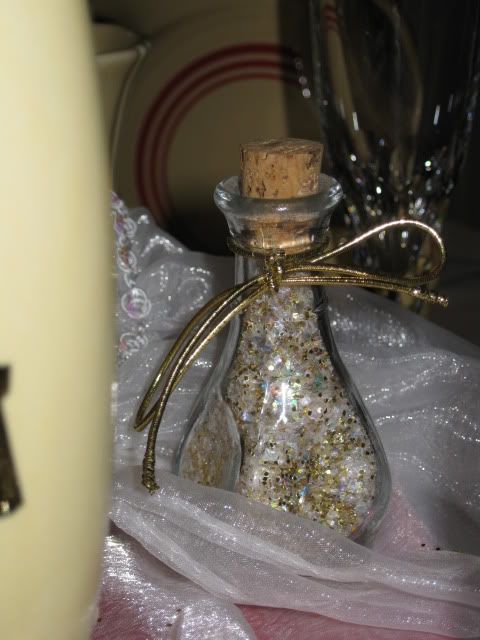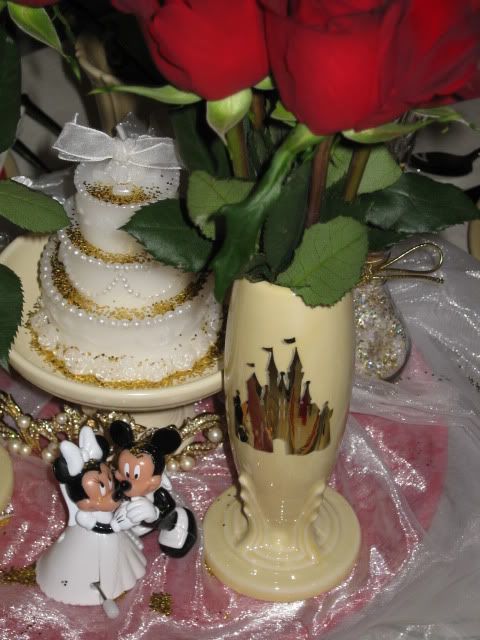 The table linens feature two different rose blooms.
I see more of Tinkerbell's handiwork!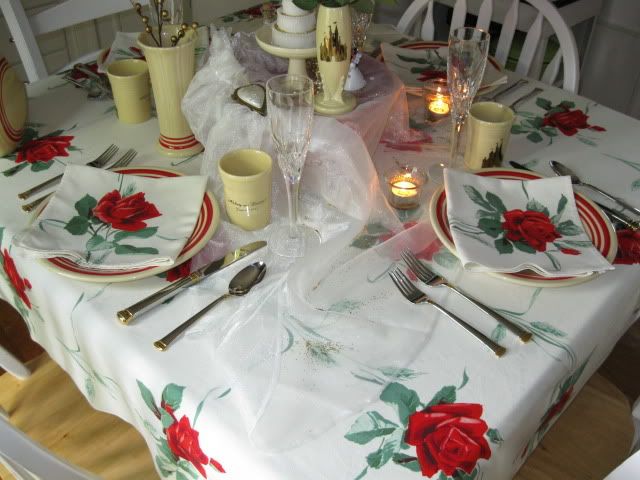 How about some candlelight shimmer?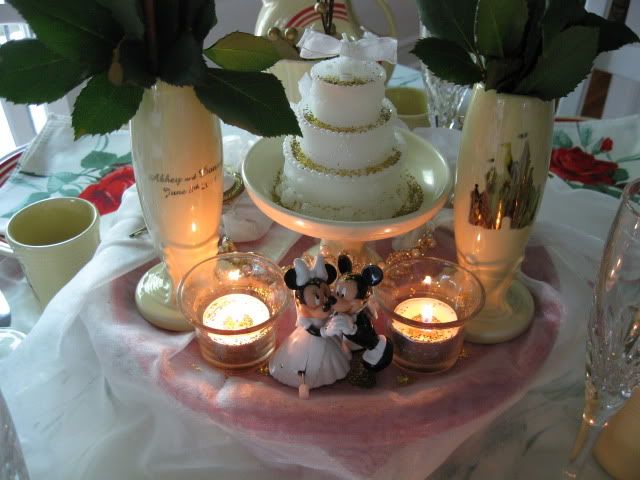 I had so much fun visiting my own box of wedding memorabilia for some of the accessories here: that's my bridal veil and tiara in the centerpiece; the locket, wedding cake candle and Mickey & Minnie were all gifts we received. The flutes and flatware are from our wedding registry, and the chiffon on the chandelier decorated our wedding arch. Happy memories fuel my greetings for the bride and groom.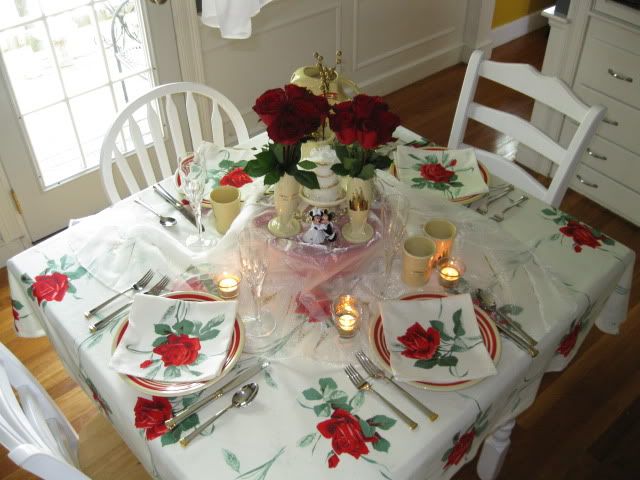 Congratulations on your marriage, Abbey and Donnie! I'm sending all best wishes for the most happily ever after!
Please do visit the tabletops of Becky, Candy, Elaine and Rebecca using the links below for more wedding fun.
I'm sharing this wedding celebration for
Tablescape Thursday at Between Naps on the Porch
and for
Seasonal Sunday at The Tablescaper
.