Last week I wrote about summer simplicity, but I can't be content with an uncluttered table for long. This table celebrates regal purples and golds with my first cuttings from our new garden and a wonderful garden in vintage printed cotton from Wilendur.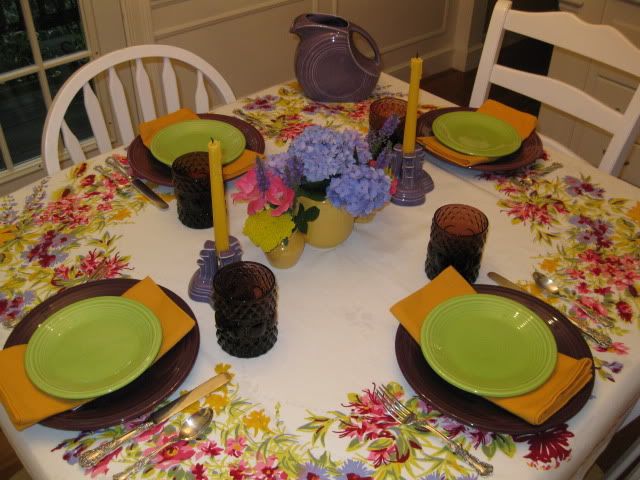 Now purple is a funny color when it comes to photographs. At the Homer Laughlin China Collector's Association a few years ago, a professional photographer actually gave a seminar on the difficulties of capturing Homer's darker glazes like plum. He recommended very bright lights and contrasting filters. I decided to see what would happen with a much softer light with a glow that provide a natural yellow balance...candlelight!
These photos were shot during a severe thunderstorm. The dark afternoon increased the shimmer on the tabletop.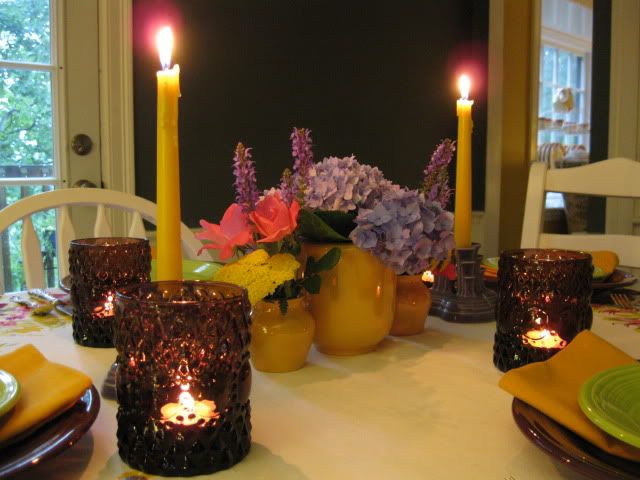 These heather-hued tumblers from Pier One sparkle with tea lights inside. Heather Fiesta dinner plates and chartreuse salad plates are accented with marigold napkins.
My great-grandparent's Gorham
Buttercup
sterling lends its own shimmering blooms to the placesetting.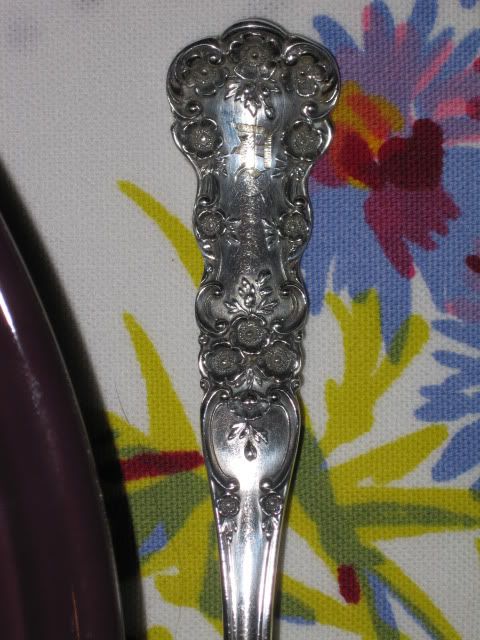 American Potter vases from the 1939 World's Fair provide the perfect golden base for a centerpiece of hydrangeas, roses, petunias, yarrow and purple spikes.
I could not resist getting out the lilac pyramid candleholders to celebrate a new acquisition, a lilac disk pitcher that was a surprising on-line bargain.
None of the purples in this pottery are an exact match for the Wilendur cloth, but I love their contrast with all of the golden flowers.
The lilac glaze was very troublesome during production, and collectors will find a lot of variation in the color. I wanted to see how well my few pieces in this color match.
Not bad at all! And here's a look at all of Homer's post-86 purples together.
I had one last curiosity about the color in this cloth. If lilac is not a perfect match, how about Harlequin blue?
Not quite, but a blend of lilac and this blue could be one for the color wishlist...we could call it "what periwinkle should have been!"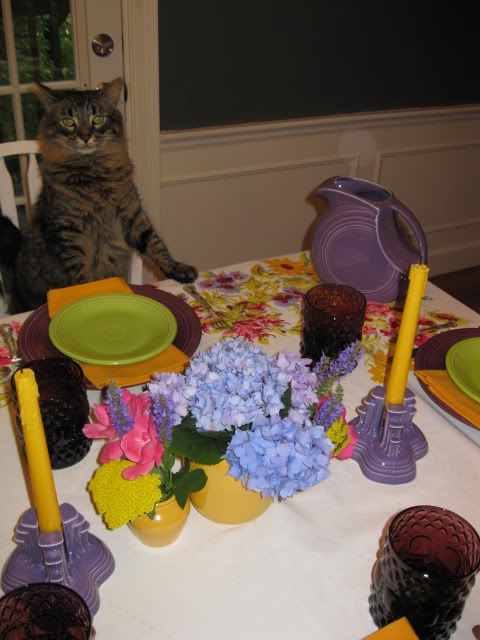 Sparkle approves of this tabletop time, and I hope you enjoyed it too!