I really love Summer tables, but the season does present a bit of a paradox for a blogger. Summer suppers provide wonderful opportunities for tabletop time, but Summer vacation means I'm not sitting by the computer as frequently as during the New England winter. Luckily, we're home this week and expecting that other bounty of summer...visitors! I love to welcome friends with souvenir cloths from the area. Here's a super New England-themed cloth. The graphics are so special that they deserve some close ups before setting the table.
Both Braves and Red Sox fans live here, so this cloth is especially welcomed to the table! We can date this cloth to pre-1953, when the Boston Braves moved to Milwaukee. In addition, I work in Higher Education, so I was really drawn to this corner with college pennants.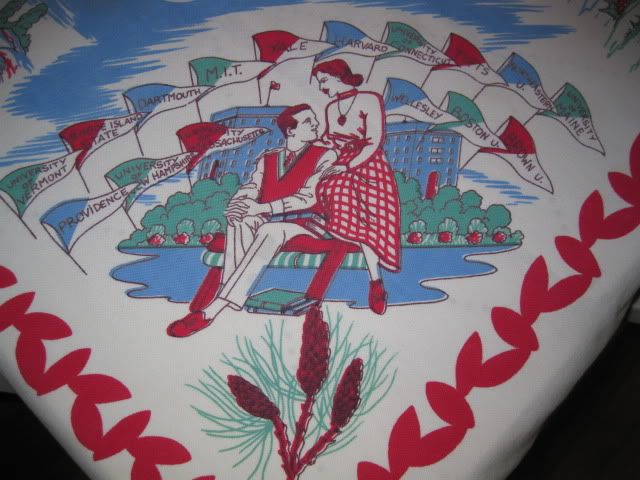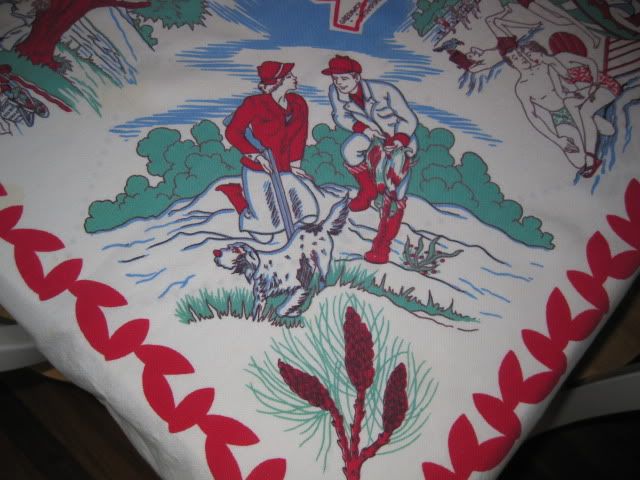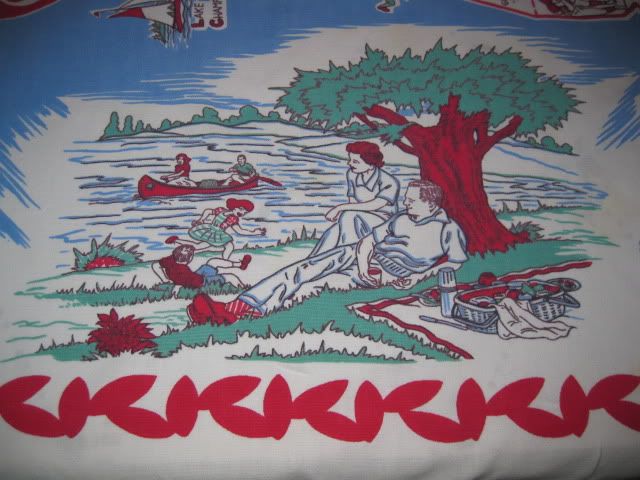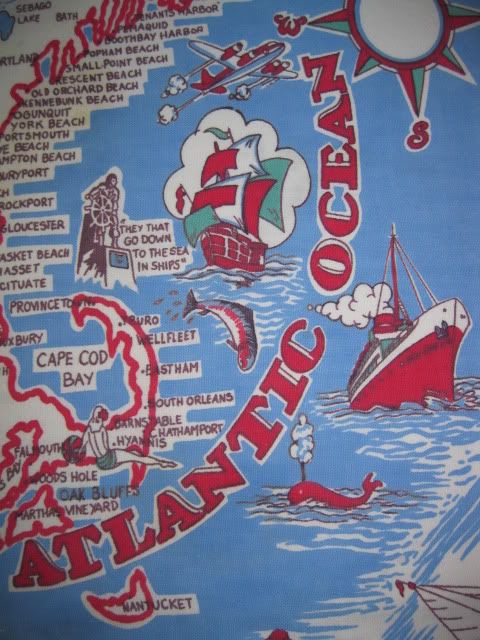 Now that we've seen vacation options for every season, shall we set the table? I collect tablecloths to showcase my dishes. You may not see new and different dinnerware on each table here, but I hope you will enjoy seeing unique combinations that celebrate the re-use of vintage and American-made contemporary pieces again and again. Today let's play with two of my very favorite lines, Riviera and Retro Red Stripe Fiesta dinnerware!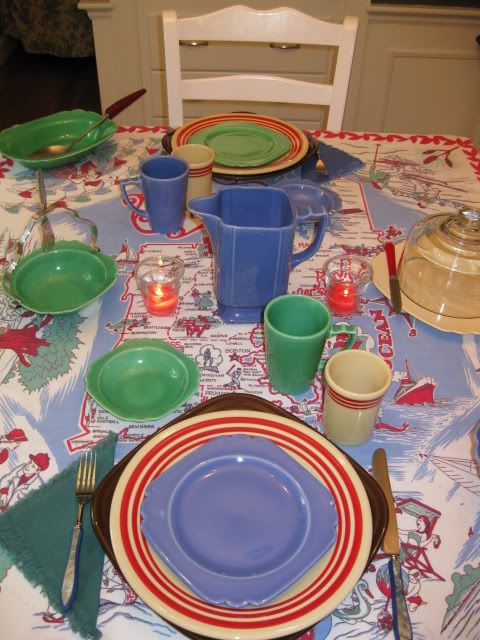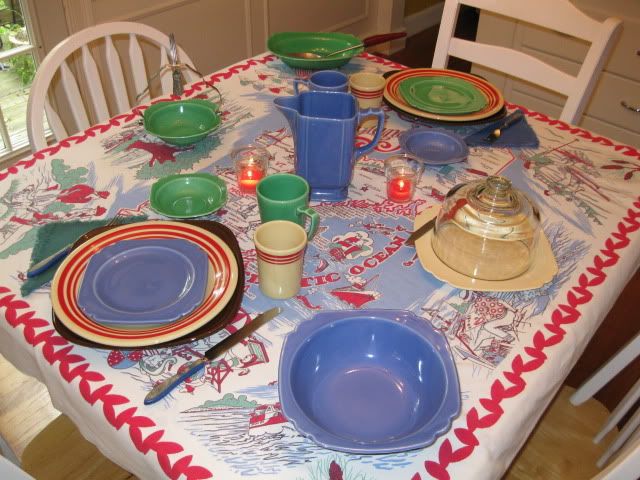 Working with souvenir tablecloths is a little different from setting the table with a floral, fruit or novelty cloth that creates a symetrical layout for the table. I often reserve souvenir cloths for a table for two so that we can enjoy more of this asymetrical design.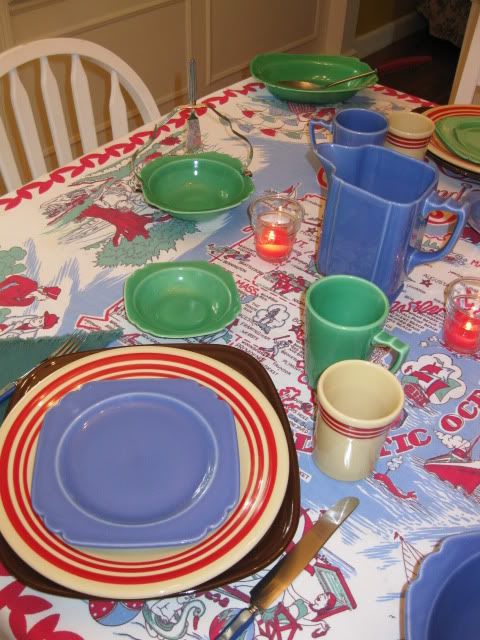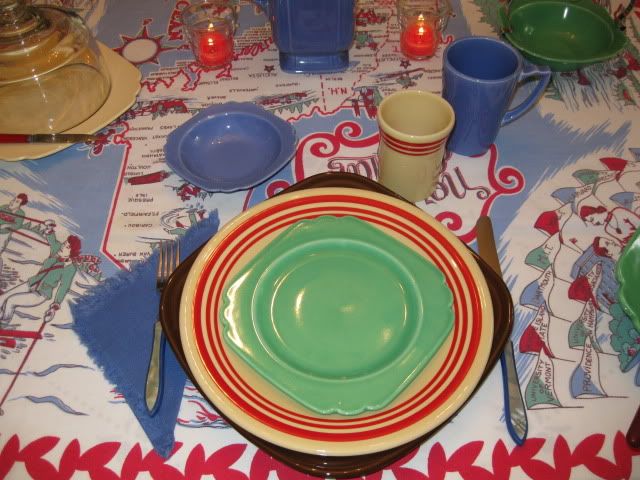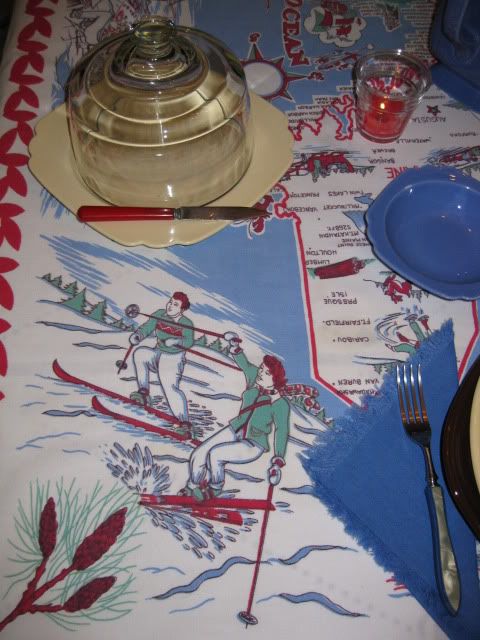 The placesettings feature square Fiesta dinnerware in chocolate, retro red stripe dinner plates & tumblers, and blue and green Riviera plates, mugs & fruit bowls with Bakelite flatware. Riviera serving pieces complete the table.
Tomorrow friends will be over for supper, so we'll be setting the table for four. I think I'll wait and do it after they arrive so that they can see the full beauty of this cloth!
It's been a while since I could sync up my shedule for Tablescape Thursday, but I'm glad to be sharing this table with the folks at
Between Naps On The Porch
.
I'm also excited to share this post for my first Summer Sunday with
The Tablescaper
! Please do check out these wonderful expressions of this special season.