Thanks for your interest in the tablescape contest. My entry was Number 9, Deco Dishes
Sur La Mer.
Making a single placesetting is rather different from doing a whole tablescape. I'm excited to do the full setting for four!
At the conference~
On the table~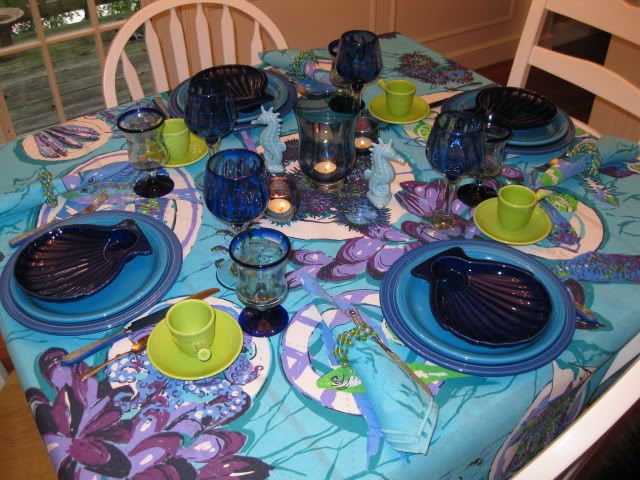 This table features post-86 Fiesta dinnerware in sapphire and peacock with Hall shell plates, Mexican glass, chartreuse Fiesta demitasse cups and saucers, vintage blue Bakelite flatware, Oneida
Cityscape
demitasse spoons, contemporary seahorse salt and pepper shakers, Crate & Barrel candle holders and napkin rings and a FABULOUS vintage Ken Scott for Leacock
Bouillabaisse
tablecloth and napkins.
The winner of the contest was the amazing number 14, a tribute to the mixed color vintage Fiesta table also known as the Exploded Clown! Congratulations, Elaine!
The sixteenth table was a special treat for the son of a fellow collector. He's a tractor fan, and the flatware inspired him to provide a wonderful soundtrack of tractor sounds for our competition!
I hope you enjoyed this replay of a wonderful conference activity! Thanks for stopping by.