Tablescaping is rewarding in so many ways. I love having color in our lives everyday. Each meal is made special, and the table is a welcoming setting for the time spent together. The items I use in the 'scapes also have special meaning, since I find many of them on my travels or receive them as gifts. This week's vintage 1947 Wiledur
Rosemead
tablecloth designed by John Madsen is a souvenir from my trip to Georgia in June for a family reunion. The
Swanky Swig
glasses are a gift from my friend Kathy when she and her husband visited Boston. They look made to go with this cloth, don't they?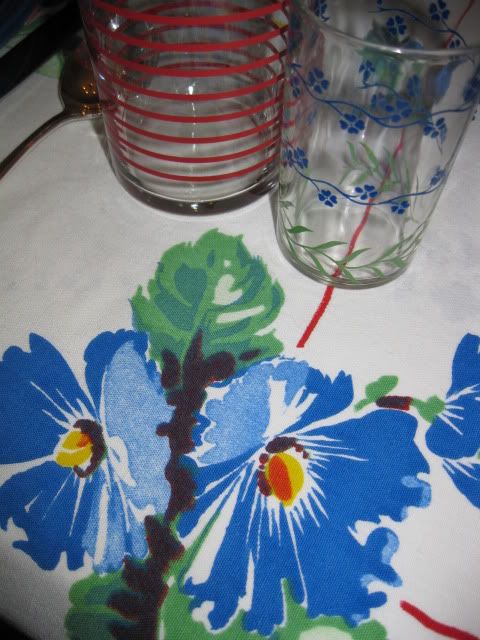 This tablecloth also inspires me to get out some older items from my collection, some Fiesta dinnerware luncheon plates with sunflower and cobalt stripes that were part of a restaurant line for either Howard Johnson or Chili's around 1993. I found these at Brimfield a few years ago.
The bowls are a new addition from Homer Laughlin's Diner bistro line. The shape looks great with Fiesta!
I brought in some Libbey stripe glassware and vintage Onedia
Deauville
flatware as well.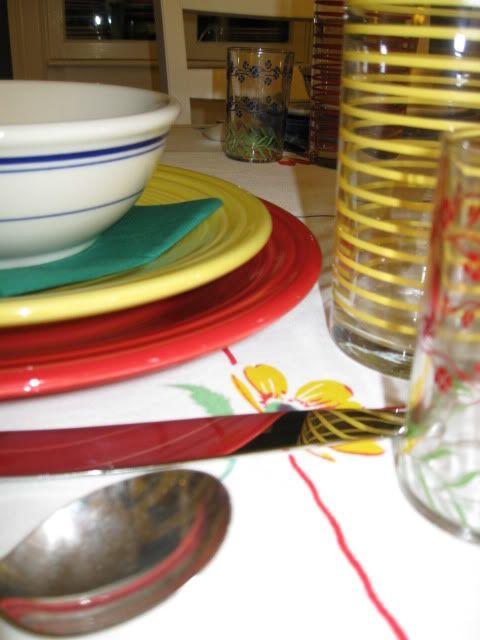 This cloth also has a few fruits scattered among the stripes and florals.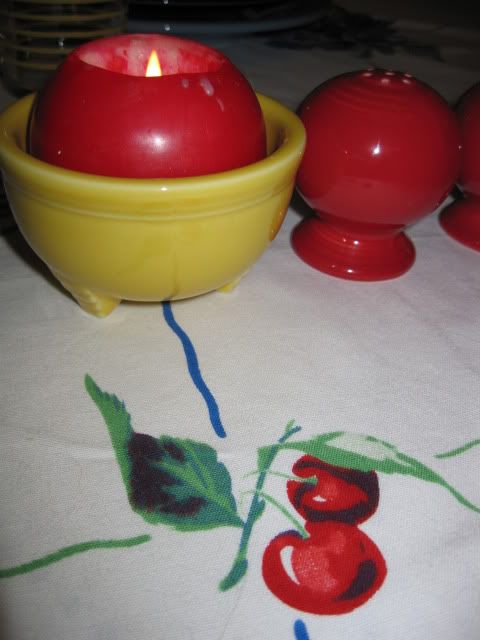 I hope you're enjoying this primary-toned cousin of last week's red, white and blue cloth. I started working with this tablesetting at night, but I think I like it better as a breakfast table.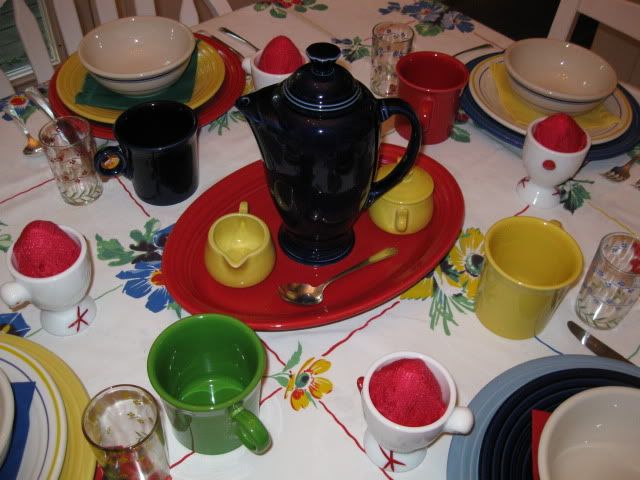 The large striped glasses are replaced by coffee mugs. The coffee server, creamer, sugar, sugar shell and vintage chicken egg cups join the setting. Anyone whose ever worked with a Post-86 coffee server knows why I put the large scarlet oval platter on the table...these pots are cute, but they dribble badly!
Which do you prefer, supper by candlelight or breakfast with stripes, florals and fruit?
Fizz declared neither by jumping into this frame and trying to paw the camera! He was ready for me to play with him and not the dishes!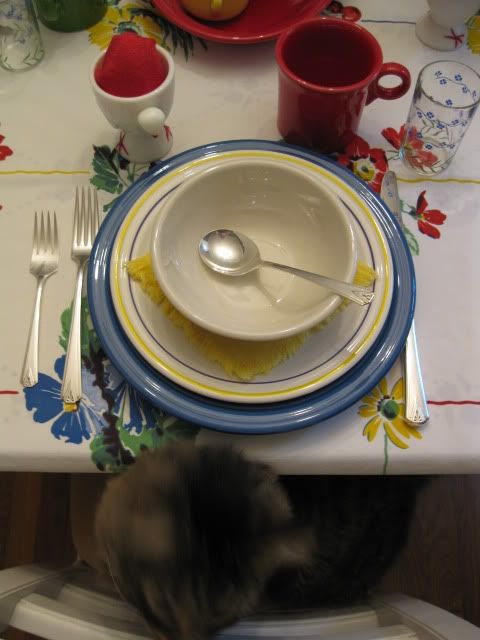 This week I'm off to the conference of the Homer Laughlin China Collector's Association. I'll be seeing many of you there. For those who can't make it, watch this space for a report on the tablescape competition!
Thanks for stopping by!