Why are these people dancing?
To welcome the new season, of course! And every party needs some music.
This table greets Spring with post-86 Fiesta dinnerware square dinner plates in scarlet and individual oval bakers in lemongrass.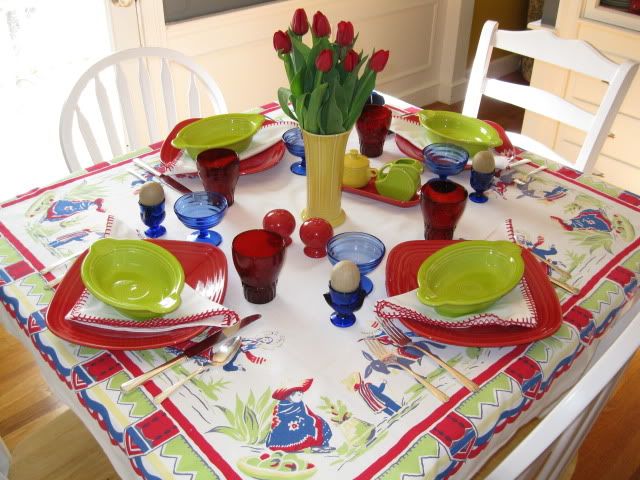 Bonton had a fabulous sale on-line on Easter Sunday. If you enjoy post-86 Fiesta, you really must sign up for their email alerts! I was so pleased to add these two shapes in these colors. I think the square plate is the perfect underliner for the casserole, which can even be used as a cream soup!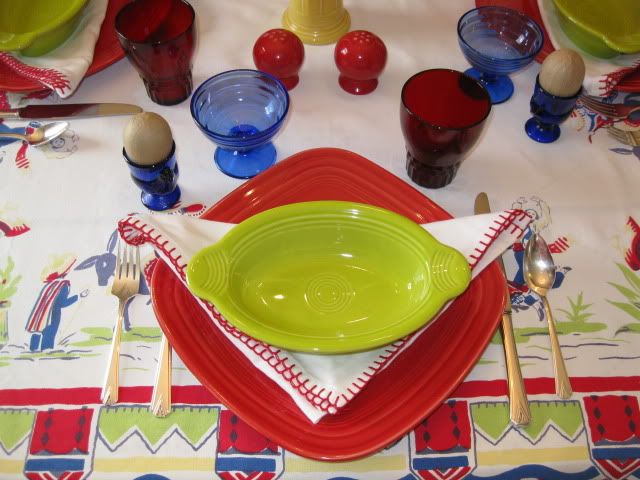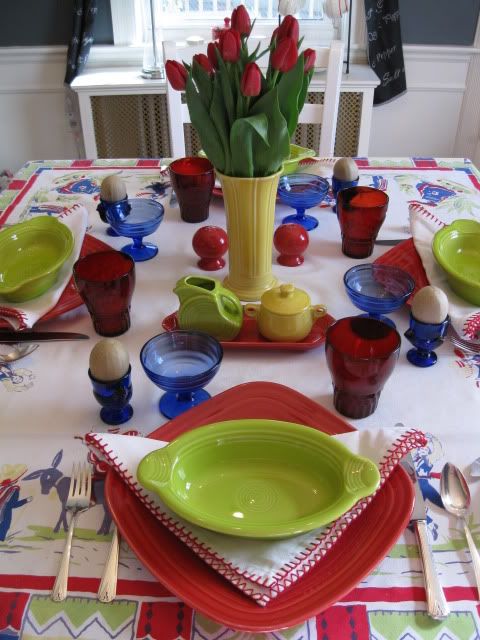 The centerpiece features a Fiesta sunflower vase, scarlet salt & pepper shakers and an "aftermarket" condiment set that combines the mini-pitcher in lemongrass with the child's teaset sugar dish in sunflower on a scarlet relish tray.
This tablecloth, manufactured by Exclusive, is from the early 1940's, probably during the war years. The fading on the faces of the characters indicates that the linen was printed during the time when fugitive dyes were all that was available for consumer use due to the war effort. The colors invite a few vintage items to join the contemporary Fiesta. Here's a butter dish from Homer Laughlin's Jade line glazed in Fiesta cobalt for use in the ensemble sets that sold Fiesta and Riviera service for 8 or 12.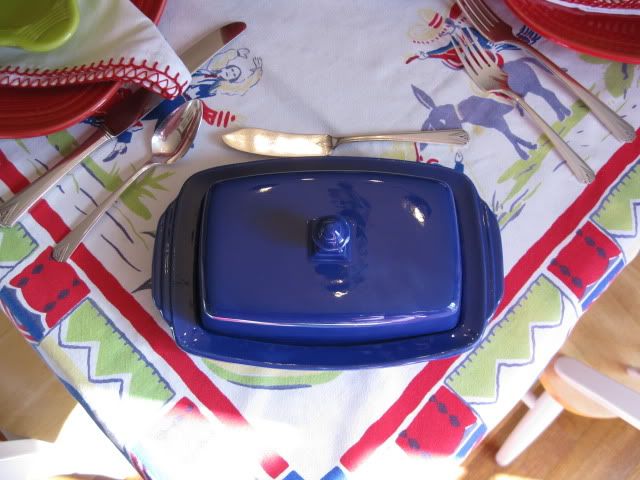 The Oneida
Deauville
silver plate is right at home on this tabletop.
The glass items are another blend of old and new. The sherbert dishes are vintage Hazel Atlas
Moderntone.
The egg cups are contemporary Luminarc from France. The ruby juice glasses are vintage Anchor Hocking
Royal Ruby
.
These pieces really glisten in the morning light.
Whether you like to greet the warm weather with a party or a quiet meditation, I hope you enjoyed this edition of Tabletop Time!
Please do stop by
Between Naps On the Porch
for another Tablescape Thursday.