At last month's International Home and Houseware's Show in Chicago, Homer Laughlin unveiled several new items for the Fiesta dinnerware line, including the much anticipated prep bowls and the jam jar.

Interestingly, another new item, the individual pasta bowl, was not previewed at the show. This wonderful bowl is a Macy's exclusive to go along with the pasta serving bowl and cheese shaker set. Collectors eager to add this piece to their tabletop have been scoping out the best deals for Macys.com, currently the only source for the bowls.

My big brown box from Macy's arrived on Thursday. It's a rainy, cold day here, so this cheerful vintage Wilendur nasturtium tablecloth from last year's Brimfield excursions seems like the perfect linen to welcome these new bowls to the table.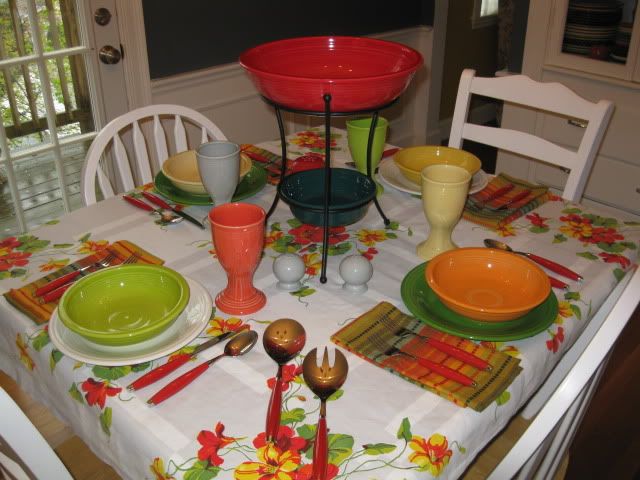 I fashioned this centerpiece using a metal birdbath holder from our local farm stand. I don't think I'll ever find this method of serving sactioned in any etiquette book, but I will use these bowls for serving steamed clams or mussels. The large pasta serving bowl rests on top of the metal frame. It will hold the shellfish and the broth. The small bowl below can be used for shells or for toasty bread. For a small table, this device is a great covenience!




The individual pasta bowl is being offered in lemongrass, tangerine, sunflower, ivory and scarlet. I've paired the bowls with Fiesta dinner plates in white and shamrock, scarlet flatware and goblets in chartreuse, yellow, persimmon and gray. Additional accessories include the cheese shaker in scarlet, gray salt and pepper shakers, the salad/pasta serving set in scarlet and Pier One striped napkins.




I also shot a few comparison shots with the other P86 bowls. See how the new bowl outsizes the peacock placesetting nappy?




And it's much wider than the scarlet gusto bowl.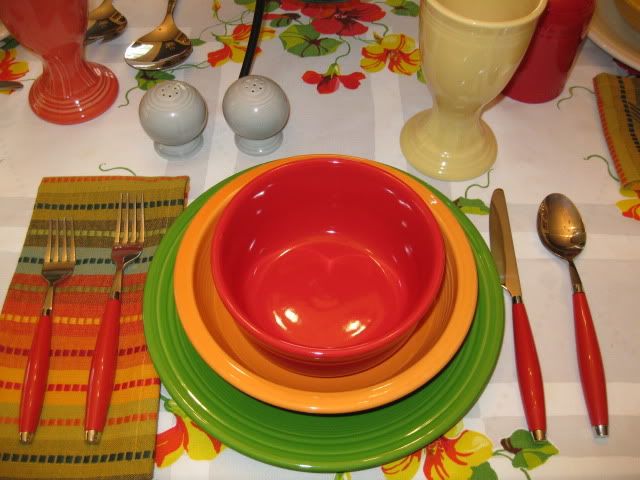 The capacity is larger than the rim soup bowl,




while the tabletop footprint is much smaller than the rim pasta plate.




This bowl is closest in shape to the vintage Fiesta individual salad bowl. I don't have any of these bowls in my collection, so here's a Harlequin individual salad bowl for your viewing pleasure.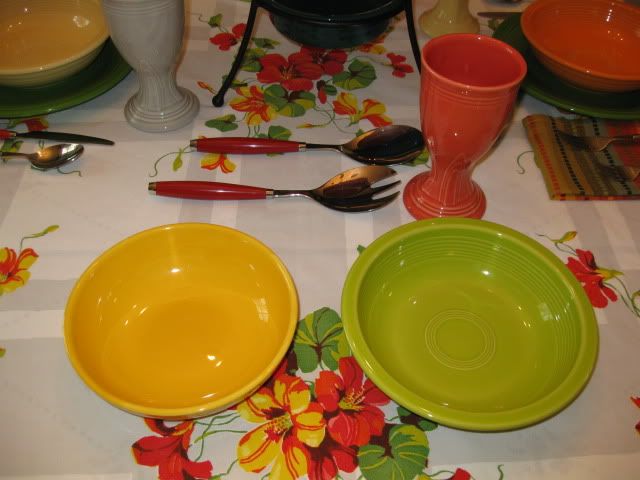 Need one final comparison? Here's a line-up featuring the placesetting bowl in chartreuse, the pasta bowl in lemongrass and the rim soup in shamrock.




I really love how the shape of the individual bowl mirrors the serving bowl.




Yes, this week's post can almost be a commercial for this bowl, but I do think it's worth an extensive testimonial. I can't wait to test them out with some delicious mussels next month when my friends arrive for Brimfield! Who knows what other treasures we will find to compliment this exciting new Fiesta shape...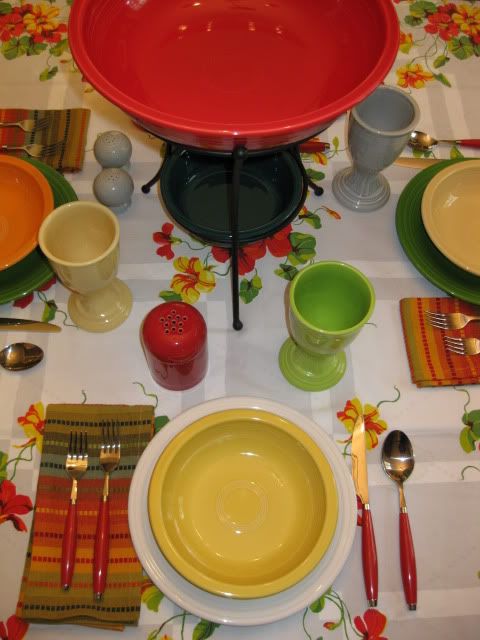 P.S. Yes, you'll hear all about the prep bowls and the jam jar in future posts!
Want to see more great tabletops? C'mon over to Between Naps On the Porch for another Tablescape Thursday!
For additional views of this tablecloth with some live nasturium blooms, take a peek
here
.