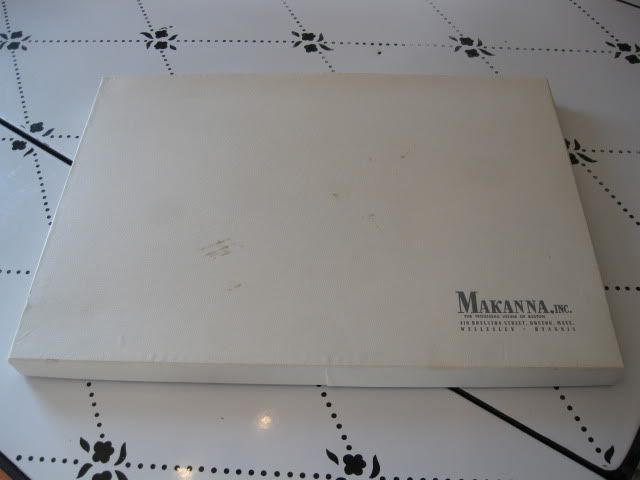 Just when I thought that I had logged all of my tablecloths into my database, I discovered one treasure that I had not yet shared. Thanks to my tablescape friends for proposing that we do a "Surf & Turf" party to brighten our winter. My offering falls into the "surf" category, and it involves a
gift for Patsy
.
The box is from Makanna's. Their tag line says it all. For decades, this shop was the "go-to" for brides. What could be inside?
Patsy is a lucky girl indeed.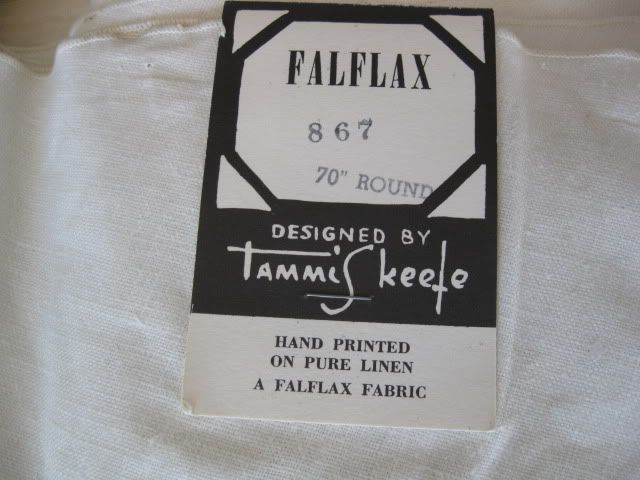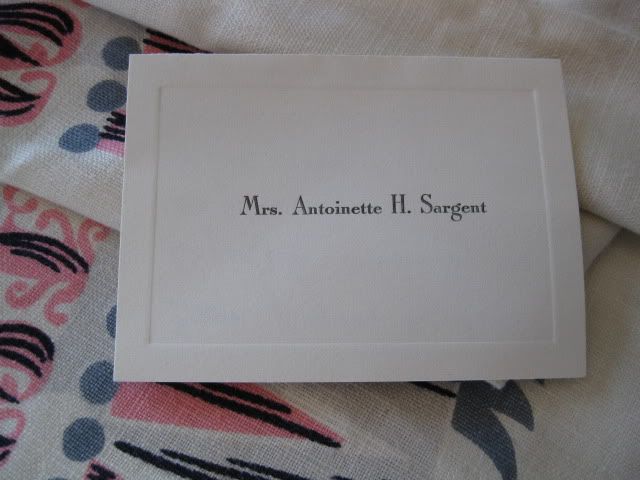 Mrs. Antoinette H. Sargent was a woman of great tabletop taste, sending a Tammis Keefe tablecloth and matching napkins! She sent her gift with visions of delicious meals to come in the home of Patsy and Blair.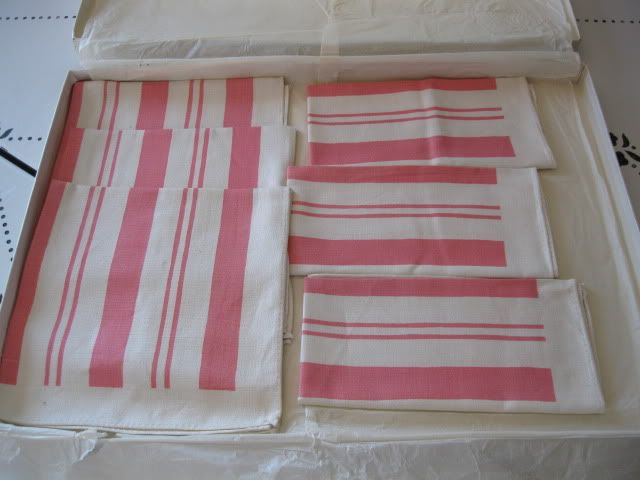 We could be a little sad that Patsy never used her fabulous tablecloth, but maybe, just maybe, she loved it so much that she found her joy in keeping it pristine and perfect for all of these years. After all, there are five lovely tidbits full of treats on the cloth.
The pattern name is
"Party,"
and this cloth is ready for a festival.
Can you guess which one is my personal favorite? Let's see if we can pull off a table that will make Patsy proud!
Fuzz finds this all very curious.
Fizz approves!
I think Patsy would, too.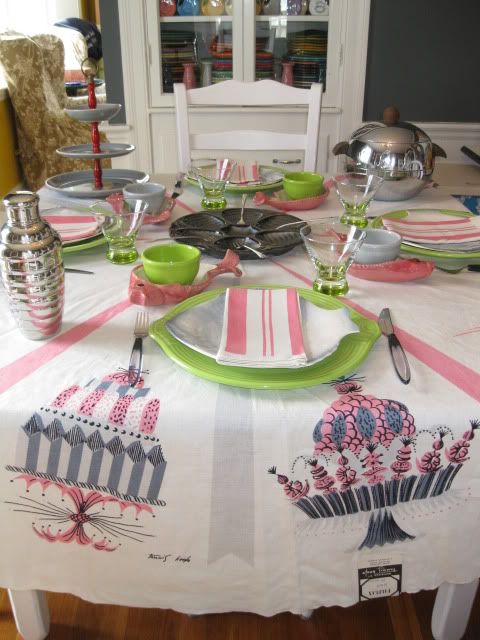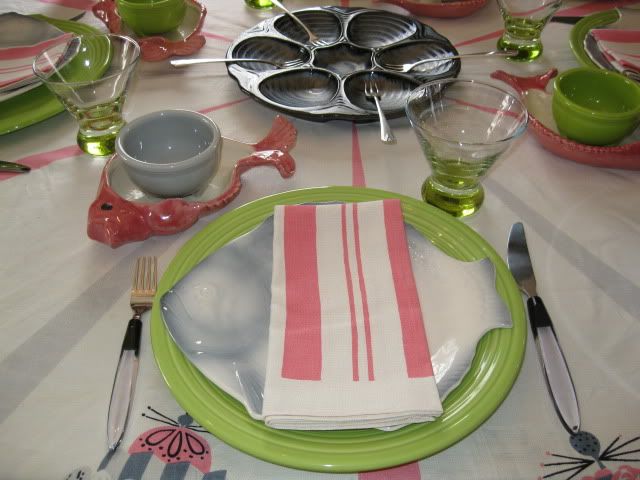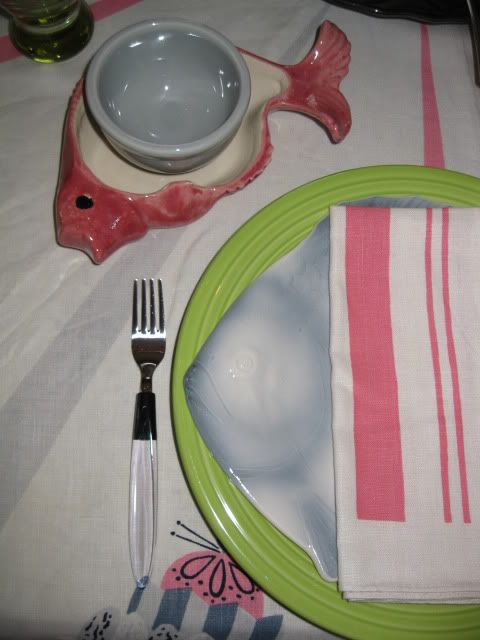 The gray fish plates are by Salem.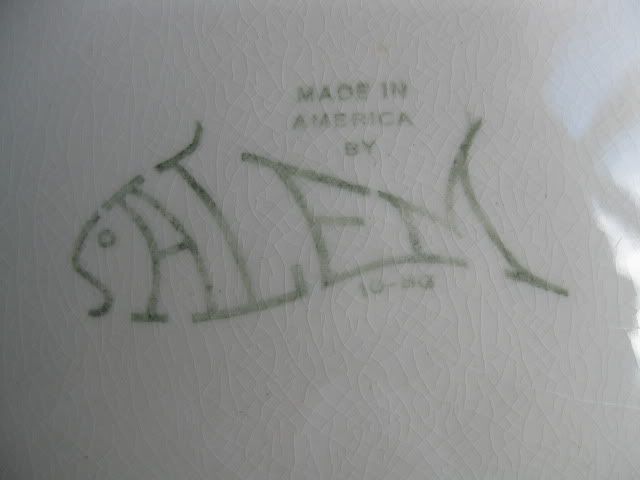 The pink fish dishes are Peasant Village.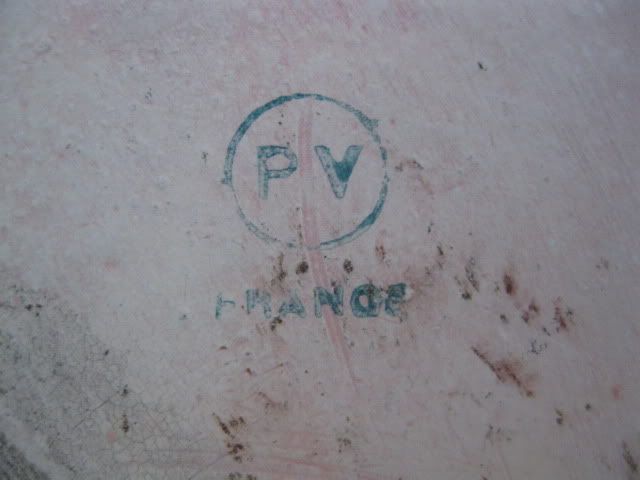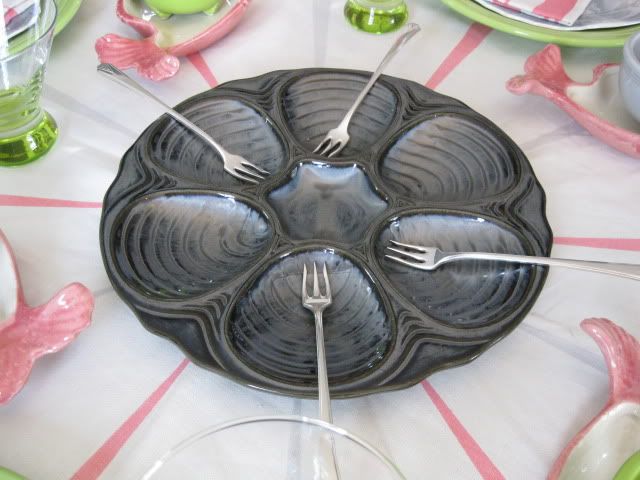 The oyster plate is by Hall, and the tidbit is either Rhythm or Ballerina.
I could not find any information about Patsy and Blair, but Mrs. Sargent and her daughter Ruth appear in the 1940 Census in St. Paul, Minnesota. I like thinking about Mrs. Sargent placing the order with the Boston linen shop to send to the bride-to-be. I found the box in a consignment store in Salisbury, Massachusetts a couple of years ago.
We'll probably never know what life the cloth lived in the 50 plus years between the time it left Makanna's and the time I discovered it. I hope you have a little tabletop fun today dreaming up your own story of Patsy, Tammis and the lovely gift of Mrs. Sargent.
Patsy's gift is part of a special Surf-n-Turf blog party featuring Richard and the Divas! Please do check out all of our tables. We're so glad you could join us today.